2004 Trip to Africa, second safari In Kenya and Tanzania. We stayed in tents, traveled in a safari vehicle and helped with the food preparation and loading and unloading. Edith and I limited ourselves to 25 lbs. of luggage and a day back pack according to our pre-trip instructions.
The daily traveloges for this trip and the first Africa Safari trip are found with the Travelogue for safari one Capetown to Victoria Falls
Following is a link to e-mail travelogues sent during this safari
Link toE-mail travelogues for Safari two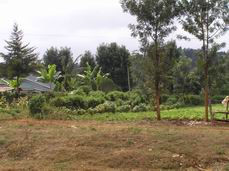 Kenya was much more tropic in nature than our first safari. There were arid or semi-arid regions but a lot of Kenya was tropical or sub-tropical.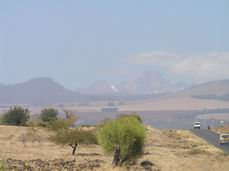 Mt. Kenya is the second highest mountain in Kenya, is rugged and has snow on it the year around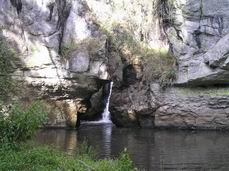 I hiked to this area call Mau Mau in the foothills of Mt. Kenya. This area is where the resistance movement to gain independence centered as it had food, water and medicinal plants and was in a remote area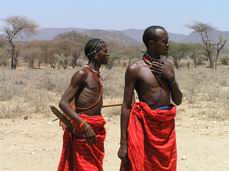 This tribe the Samburu is related to the fierce Masai and located in the Samburu area where we visited one of their villages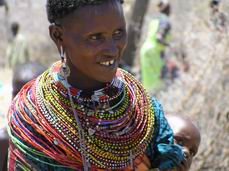 These Samburu women whose tribe we visited had very nice jewery.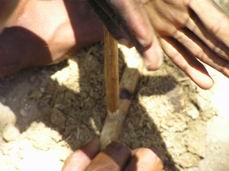 Showing the Samburu starting a fire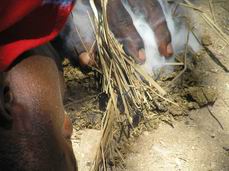 Showing the fire starting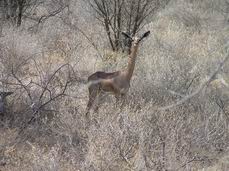 This Gerenuk has a long neck to permit grazing tall shrubs and we only seen them in Samburu NP. In Samburu NP we camped right in the park with no protective fences. We heard lions roaring not to far away and Hyena's right outside our tent and other animals in the distance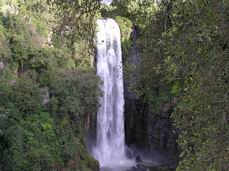 We hiked to the bottom of Thompson Falls for this picture. There was a nice campground here but there were a lot of dogs barking at night.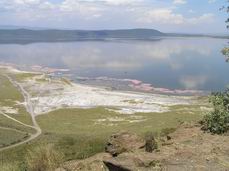 Next on our safari was Nakuru NP. This may of well been the most spectacular view of the second safari from baboon cliff.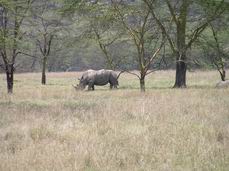 The first Rhino in the daylight, we previously had seen Black Rhino's by a water hole at night at Etosha NP in Namibia. We seen both the White and Black Rhino's on our safari's. This is a White Rhino. The color refers to the color of their gums.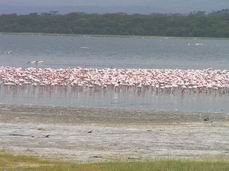 These were flamingo's at Lake Nakuru.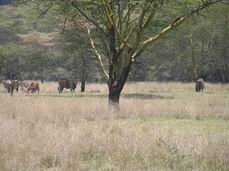 The only Elands we saw were here in Nakuru NP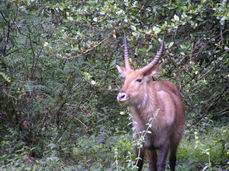 We seen several Waterbucks here in Nakuru NP and there were also lots of birds here.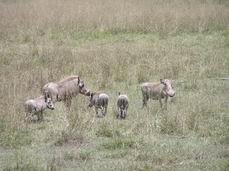 One of many places we seen Wart Hogs.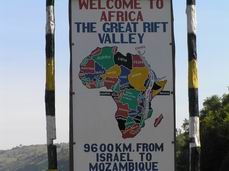 The Rift Valley which stretches for 1000's of miles.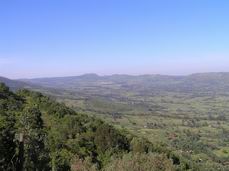 The huge Rift Valley.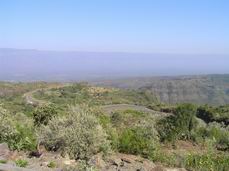 A view of the Rift Valley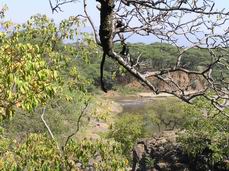 Another view entering the Rift Valley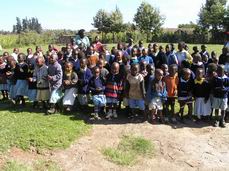 School kids in a school we visited. Everyone goes to school in Kenya through the early grades but few get to go to high school. Money is a big problem for supplies although the school is free but teachers are poorly paid. English is taught in all the schools.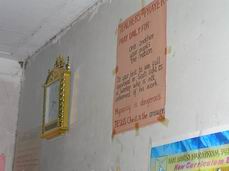 Prayer, religious songs and Bible reading are a part of all Kenya schools. There are a few Muslim areas in Kenya. I believe what happens is that the Muslim's just are not forced to take part.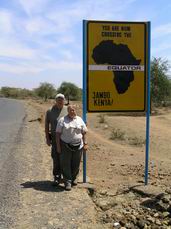 Equator sign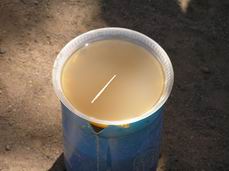 A native women showed us water swirling one way north of the equator, the other way south and the stick standing still on the equator. After getting home I studied this on the Internet and found it is a fake that is commonly believed. In large weather systems such as tornadoes it is true due to coriolis effect but is does not happen in such things as a toilet flushing, water going down the sink, etc. The same fakery is true in regards to balancing an egg on end at the equator. The swirl is actually introduced by how the water is poured or by rotation given the water when moving it.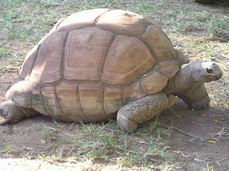 Large tortoise at Lake Baringo campground. It is about 60 years old and should live to be 80-100 years old.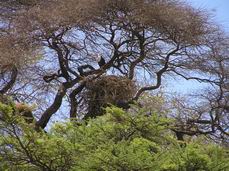 A Fish Eagle at Lake Baringo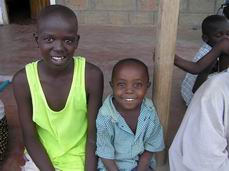 A handicap school at Lake Baringo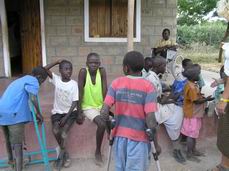 Another picture at the school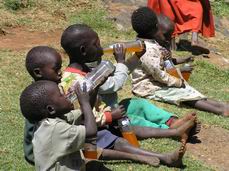 Kids drinking pop by the Rift Valley on the way to the Cherangani hills near Katale.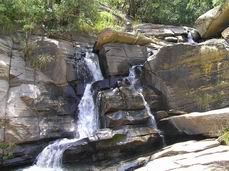 A falls in the Cherangani Hills near Katale, Kenya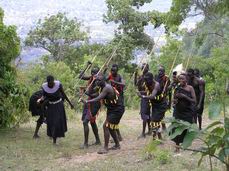 Native dancers in Cheerangani Hills.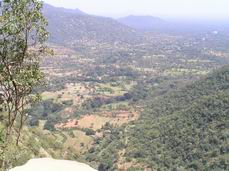 A view of a valley from the Cherangani Hills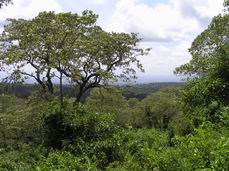 Rainforest on Mt. Elgon in Mt Elgon NP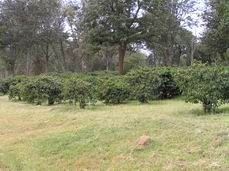 These coffee trees were in the Mt. Elgon region which is the highest mountain in Kenya.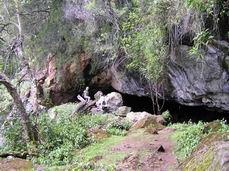 Kitum Cave in Mt. Elgon NP where elephants and Cape Buffalo dig for salt in caves.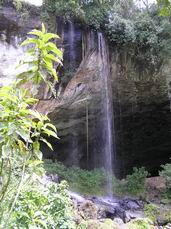 Making'eny Cave in Mt. Elgon NP, another salt cave with waterfalls in front of it.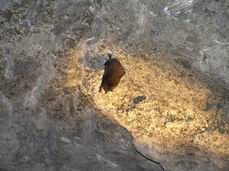 A bat in Kitum Cave in Mt. Elgon NP.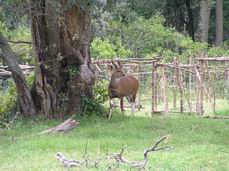 A Reedbuck in Mt. Elgon NP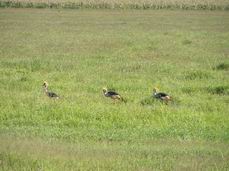 Crown Crane in the Mt. Elgon area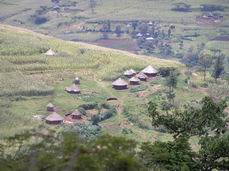 A view from Mt. Elgon NP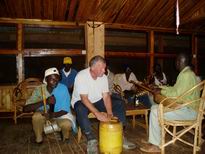 A Band at the restaurant in the Campground we stayed at near Mt Elgon. I have never seen home made instruments like this. They were an excellent band. One of our group was on the drum. Thanks to Eric of our group for getting me this picture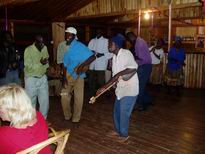 More of the homemade music instruments. Thanks to Eric of our group for getting me this picture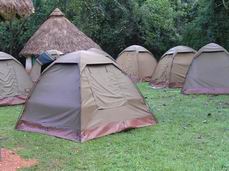 Our wet tents in the Kakamega Rain Forest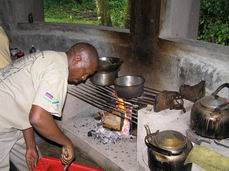 Our cook Wango at the Kakamega Rain Forest campground.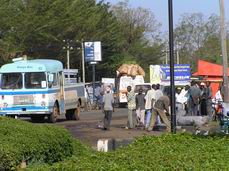 People at a fuel station in Kisumu in southern Kenya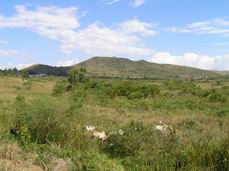 A view of southern Kenya shortly before entering Tanzania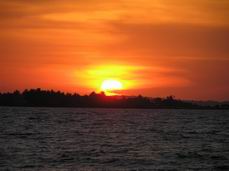 A view of sunset over Lake Victoria the largest lake in Africa and second largest fresh water lake in the world. We are just south of Kenya in Tanzania at Masoma.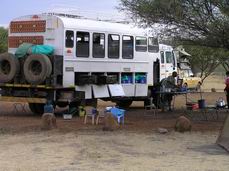 Our safari truck at Speke Bay CG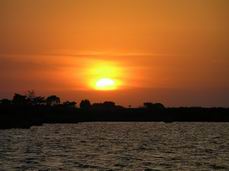 Sunset at Speke Bay on Lake Victoria the source of the White Nile fork of the Nile River.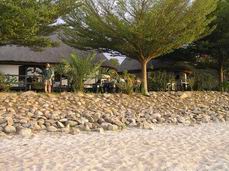 Shoreline of Lake Victorio, Speke Bay Lodge. My friend Eric from the Netherlands is enjoying the sunset.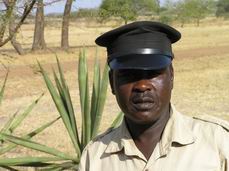 My friend Geoffrey a guard at the Speke Bay Lodge CG. Albert like most in the area was fortunate to have a job but unfortunately he only was paid $1 per day.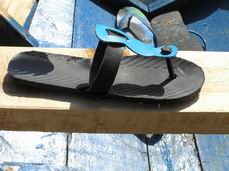 Native shoe made out of a tire at a village by Speke Bay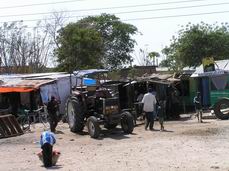 A tractor and some stores in a village near Speke Bay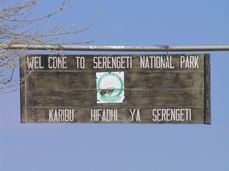 Entering the Serengeti NP. It was the best park for seeing animals on our trip. I would recommend it as the park to go to if you only have one park to go to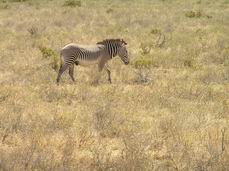 Grevy's Zebra, note the narrow, straight strips. Different than the Burchell's Zebra which is more common and has wide strips not in a line.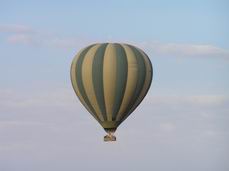 Hot air ballon over the Serengeti.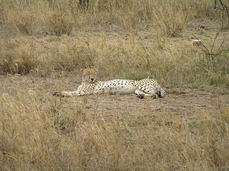 A cheetah one of the fastest running animals in the world.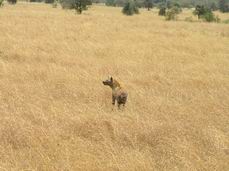 A Hyena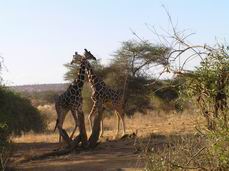 A picture postcard view of two giraffe.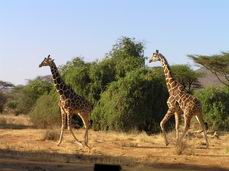 Two giraffe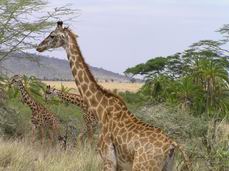 Three giraffe grazing the tree tops.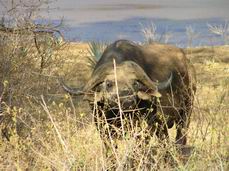 A large male cape or African Buffalo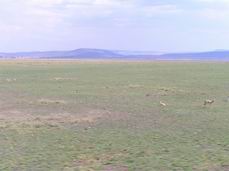 In these open area's in the Serengeti NP you could see animals as far as the eye could see. In the picture are some Thompson Gazelle, we also seen the Grant's Gazelle
We seen thousands of wilderbeests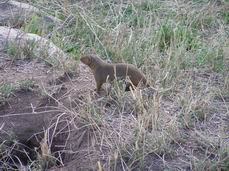 A Marmot in the Serengeti NP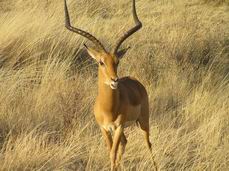 One of the most common animals we seen in Africa an Impala.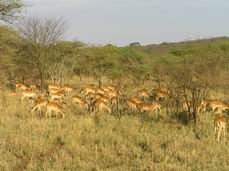 A herd of Impala in the Serengeti NP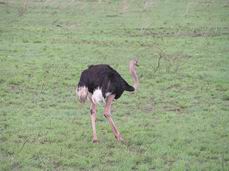 One of many Ostriages we seen.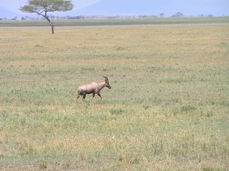 Topi very common in the Serengeti but we did not see elsewhere.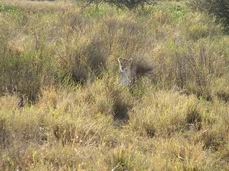 First lion we seen in the Serengeti.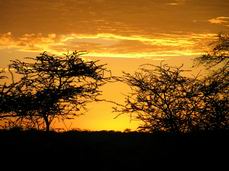 Sunset on the Serengeti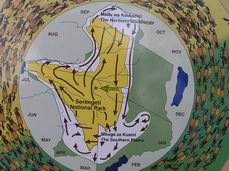 Migration route in the Serengeti north to Masai Mara National Park in Kenya and back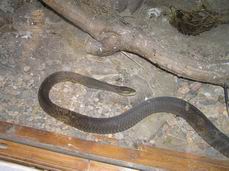 Black Mamba one of the most poisonous snakes in the world found in quite a wide area of Africa. This one was in a snake garden but we seen one in the wild but was not able to get a picture then.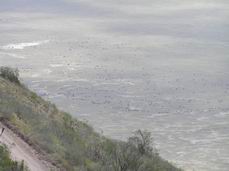 Ngorongoro Crater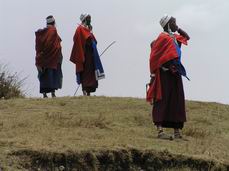 Masai women from fierce nomad Masai tribes.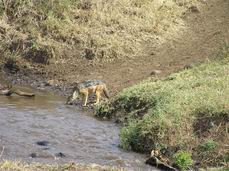 Black-sided Jackel in the crater but we seen them all over Africa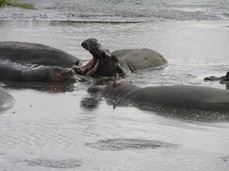 Hippo's in the crater.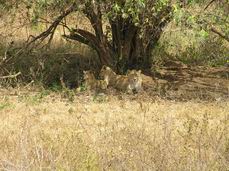 First lions we saw in the Ngorongoro Crater
Probably my best lion picture since it was such a classic male lion. The Swahili word for lion is actually Simba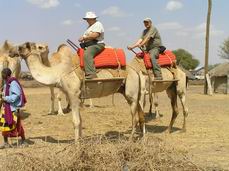 Taking a camel ride at the Snake Park CG at Meserani, Tanzania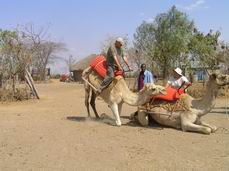 Getting off camels.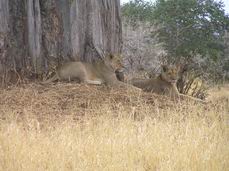 Female lions Edith seen in Terangeri NP near Arusha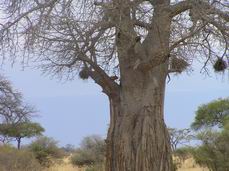 Not a good picture but if you zoom on it you can tell it is a leopard which completes the pictures of the big five. There are actually two in this tree. This was at Terangeri NP near Arusha. We also seen a leopard in the Ngorongoro Crater and the picture quality is about the same.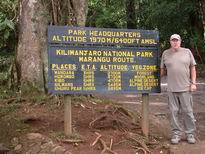 Mt. Kilimanjaro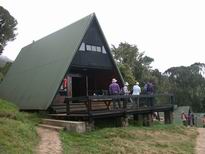 First Kilimanjaro camp. We hiked a bit beyond this on a day hike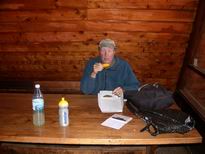 Eating at first basecamp of Kilimanjaro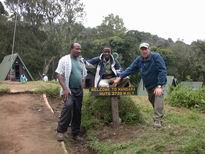 You can not hike on Kilimanjaro without guides.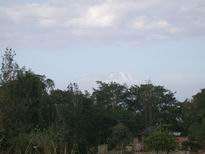 Mt. Kilimanjaro 19335 feet close to the equator with snow on all the time NP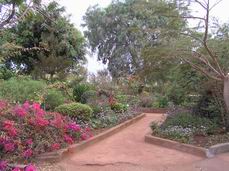 Kudu Campground at Karatu near Ngorongoro Crater, one of the prettiest campground we stayed at.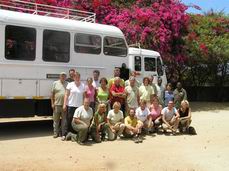 Our second safari group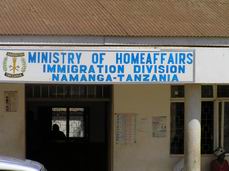 Sign leaving Tanzania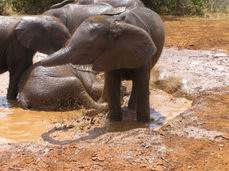 Baby elephants at Nairobi NP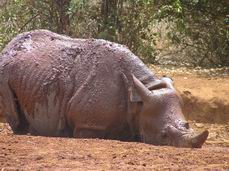 A baby Rhino in the mud at Nairobi NP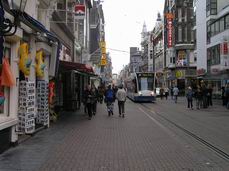 Amsterdam, Netherlands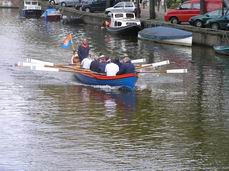 Canal in Amsterdam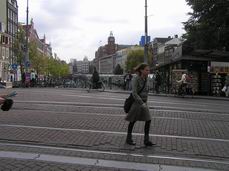 Bicycles in Amsterdam