2001 Trip to ALASKA (Day 53 to Day 65 August 15th)
We put in more pictures and reduced the size a bit on the picture you get after you click on the thumbnail so it fits on your screen without having to use your tool bars. They should also load a bit faster and best of all I can put a lot more pictures on the web page. Another web page will replace this one on October 1st since I am home and have access to upload.
Day 54, August 3, Friday
Unfortunately it is raining so we are shot down for a flight seeing trip to Mt Denali but are going to check it out. We ended up taking the Geeting Aviation rainy day flight for $75 pp and it was nice. The amazing thing were cabins way up high in the middle of nowhere. Apparently they hike in or in some cases use a quad. We did see one fly in by a lake. We seen absolutely no wild life. Our pilot said they seen quite a bit last year but it is just gone this year. We also seen some cleared areas near Talkeetna where they had cleared the forest by pushing it into long windrows. We see a huge garden. We also seen the Barnett Earth station where there are two big dishes. We toured Talkeetna and on the way out found the Barnett Earth Station which has been decommissoned.. Mike had showed me pictures on the Internet. We then headed north for Denali and arrived mid afternoon, raining like made a very low cloud cover so as per typically we seen ZERO of Mt. Denali. We looked for places to park and spotted on in a gravel pit as an alternative if the Denali Park campgrounds were full. We then went to park headquarters and got our tickets for the bus tour in the morning which we need to be ready by 5:50 for the 6:15 departure to Wonder Lake. We watched a movie on Denali and checked out the bulletin boards, weather forecast etc. We then left and checked a private camp ground and they wanted $18 for dry camping so we decided to use the gravel pit alternative especially since the trailer park did not have pickup service for the Denali bus tour. We have another camper here in the gravel pit that has apparently been here a day or two as they have things set up. They took off with their car and left the trailer. We are going to stay hooked up but run the slides out and put up the 20 meter dipole for the sked and E-mail and then take down the antenna and in the morning run the slides in and move the 5th and F-350 to the RV day parking while we go on the bus tour. We will check the weather forecast when we get back in to see if it is worth waiting around to try and see Denali. If it does not look promising we will head for Fairbanks, tour that area and the Haul Road to the Dead Horse on the north slope where the pipeline starts in the sea north of Alaska and then on our way out of Alaska we will travel the Old Denali highwas and look for berries and wait for awhile to try and see Denali. Hopefully we see lots of wildlife tomorrow. It will have to be close as I will only be able to use 3 X as it will be to dark for the telephoto.

Picture from air of high country by Telkeetna just south of Denali(CLICK ON PICTURE To ENLARGE)
Day 55, August 4th, Saturday
We got up at 4:30 am, had our battery clock alarm set and my Timex wristwatch so we did not over sleep but as usual we did not sleep real well and were awake before the alarm went off. We had a quick breakfast of oatmeal and raisons and headed off for the park headquarters about 8 miles away. We pulled the 5th wheel. The lot which was nearly full the day before was empty so we parked and headed for the bus departure area in front of the building and got in line behind one other couple for the Wonder Lake tour whick is about 86 miles into the park. There is one about 6 miles farther to Kantishna. Our bus drives name was Tom Crane who narrated the trip. There were about 18 people on the bus. Edith and I sat on opposite sides next to the window. They wanted to steam over a lot so we had to keep whipping them off with paper towels the bus driver provided. The public can drive the first approximately 13 miles and then it is restricted to permit only which is mainly buses.
There is an exception which is a very good deal it seems to us. You can take your camper into Teklanika River campgrounds which is 29.1 miles in if you are willing to stay 3 days. It costs
$12 a night. Then for I believe $23 each you can get what is called a "TEK" pass which allows you to ride the bus on a space available basis for the three days you are camped. I believe the first day you have to specify your trip. You just flag down a "GREEN" bus at the bus stop by the camp. There are about 90 camp sites and the road is nice and wide but does have potholes and is of course gravel from the 13 miles on. to get to the camp ground. One would need to arrange this ahead of time to be sure of pulling it off. However we checked that night and they did have some slots still open. One can reserve starting in Feb or one can wait and try for the next two days each day at 7 am via an 800 number for a certain number they hold back. The 800 number is on the web site. There is also an Anchorage number. You do not have to stay with your bus but can get off and come back on a later bus. They get very crowed however we discovered you can come back on the Camper bus where they carry back packs, bikes, etc and we found them to not be crowed at all and they follow almost the same schedule. They don't stop for wildlife quite as much but they sure are a lot less crowed and if it got late one could almost be assured of getting on a camper bus. I would suggest leaving on either the 5:15 or 6:15 am bus to see more wildlife and then stay out and come back on a later bus to see the evening wildlife. Remember to bring mosquito screen clothing and 100 % deet repellant as they can be bad at certain spots. There is a nice hike at Wonder Lake. Another trick that I think would work is to check what it would cost to stay at the Teklanika River Lodge which runs their own shuttle bus thru Denali to their hotel and then takes you back when your stay is over. There are also tour buses which are "BROWN" buses. I am not sure how you get on them but one could check the Internet for tours. I know some of them are like Princess, etc. which are the tour bus company but I think there are others thru the hotels, etc.
If one wants to dry camp one can go on north about 8 miles up on the hill and there is a pull off. There is one gavel on previous that one can also stay. The rest are posted no camping. Dry camping at a commercial camp ground is $18.00. Denali also has Riley Campground right by the entrance but again one better get it set up ahead of time as it is generally full. If I had it over to do again I would go for 3 days at Teklanika River CG and get the "TEK" passes. Considering the Wonder Lake trip cost us $30 each the $36 + $23 + $23 is not bad for 3 days in Denali. One could have a lot of fun. If you are the Back country, tenting type that is very economical and I think one is almost assured of getting a spot and can ride the camper bus. It does cost for a back county hiking permit but it is reasonable. Bears are definitely a concern and you want to come very prepared. I think you have to rent their bear containers or certainly have approved ones for food. You would want to check this out. I normally don't worry about bears BUT these are Grizzley and they are pretty unperdictable so there is some small danger.
Back to our tip to Wonder Lake. Edith spotted the first wildlife of the trip a Carabou of which ultimately we seen probably 50. She also spotted a grizzly bear down in the river bottom. See seen 3 grizzly's and I seen two of the three. We seen 2 fox, one moose and about 20 Dall Sheep. I got pictures of all them. As usually it was very cloudy and overcast so not even a glimpse at the bottom of Denali let alone up a ways. The road gets very, very narrow after the Teklanika River CG. It is straight down for 1000's of feet and when two buses meet there is just barely room. In fact many places there is not so one bus has to pick a wider spot to get over. The parks system has it all worked out with the traffic as to who is supposed to stop and who has the right away. There are some real colorful rocks on the mountains in a number of places and lots of glacial rivers. There are rest stops about every hour. A the Elison Visitors center you can try and upgrade your ticket to go farther. The point here is if all that is available is and Elison trip which is about 54 miles in you could take it and then stay and keep trying for an upgrade. My thinking is you would almost be sure of getting to Wonder Lake anyway. For many the trip to Elison and back would be good enough but if you really want to maximize your chance of seeing the greatest amount of wildlife you should go at least to Wonder Lake. I am sure we would not of seen the moose or Dall Sheep if we would of just went to Elison and went right back. BTW I got some great Telephoto shots. A few there was just not enough light but given no tripod and you can not get out of the bus to take wildlife pictures not bad. We did see one bear up on the hill side that got in a fight with another bear a couple of days before and killed it as people in the bus watched. There were signs all over to not enter this area, restricted! The bear was still there eating the other bear. It had a huge area tore up. It was a huge grizzly. Like I said earlier I don't worry much about bears but these grizzly's are not perdictable! Far different than a black bear. Polar bears are also very dangerous but few people get close to them based on where they live.
Once we got back we checked the weather but it said cloudy for several days so figured there was no use staying and trying to see Denali. I was tempted to do the Taklanika River Camp ground and "TEK" passes as they were available starting that night but due to the cloudiness decided not to. We then headed north and as we went north it cleared up but we could not see Denali as it was cloudy back to the south We ended up deciding to go to Fairbanks which was about 120 miles. About 20 miles west of Fairbanks we looked back for Denali and THERE SHE WAS! The locals say the MOUNTIAN IS OUT! It is rare in the summer time. In the park we seen where it was really only clear twice in July and had not been clear in August yet. We pulled off the road and ran back to where another car was parked. There was a couple visiting one of their parents in Fairbanks. The couple was from Fargo, ND. She was so excited about seeing Denali see could hardly talk. I was not much better. We were snapping photo like crazy and I set up the tri-pod and telephoto lens.
It was starting to get dusk and the sun was shining on Denali and it was AWESOME! You just can not believe how big this thing is. You can see it at Anchorage and you can see it a Fairbanks. Look at your map and you will see how far apart these towns are. It is like having a Mt. Between Sioux Falls and Rapid City and being able to see it easily from both towns way, way above the horizon as clear as can be IF it is a clear day. I was really getting excited as I could not see it in my telephoto so I just went with the 3 X in the digital and Edith snap some with her zoom. I decided to run and get my other filter lense to try and get rid of some of the diffusion from the haze. It did help but by then it had gotten dark. I am happy to report I got some real decent pictures. The one telephoto actually was not bad but I did not get the mountain centered! I should of tried a couple of more but anyway it was a sight I will never forget and most people go to Alaska never see Denali so we were blessed! The sight to the naked eye and then through my Steiner Field Glasses was fabulous. You just can not believe how much snow is on the mountain and how BIG it is!
I was surprised at Fairbanks, expecting it to be flat. Instead it is very hilly and lots of trees . You come in on a skyline type drive road going east. It lies down in the valley. It was nearly 11 pm so we found the SAM's Store and a bunch or RV and pulled in and just ran out the bedroom slide to keep the noise down and fell into bed. What a wonderful day. I WILL NEVER FORGET THE VIEW OF DENALI. I JUST HOPE WE GET TO SEE IT AGAIN!

Picture of Wonder Lake in Denali National Park(CLICK ON PICTURE To ENLARGE)

Grizzly that killed another Grizzly. See how the area is tore up!(CLICK ON PICTURE To ENLARGE)

Telephoto of Mt. Denali from west of Fairbanks, I did not quite get it centered and was getting dark(CLICK ON PICTURE To ENLARGE)

View of Mt. Denali from west of Fairbanks(CLICK ON PICTURE To ENLARGE)

Picture of caribou in Denali National Park(CLICK ON PICTURE To ENLARGE)

Dall Sheep in Denali National Park(CLICK ON PICTURE To ENLARGE)
Day 56 August 5th Sunday
It was a cloudy to partly cloudy day but no rain. We went to the visitors center toward noon and checked out road conditions on the Dalton Hwy (Haul Road) to Prudhoe Bay as well as sight flying services up north and called some as well as the Arctic Inn at Prudhoe Bay. It was nice as the visitors center had public telephones right on the desk where you could call local numbers and 800 numbers or use a calling card. We made a reservation for the Discovery River Boat on the Chena River that has a 4 .5 to 5 hour cruise along with a couple of stops at what I would call living learning centers . More on that after the tour! We then went to the UAF Musk OX and Caribou farm and got some good pictures of the Musk Ox. The tours have been cancelled due to Hoof and Mouth precautions. We then went to the museum at UAF which had a section for each region of Alaska and for $5.00 pp it was definitely worth it. We then found the spot on campus where you can view Denali if it is clear. It is reportedly the best spot in Fairbanks since UAF is up on the hill on the north side of town where Fairbanks it down in a bowl along the Chena River. Fairbanks is laid out well and have about 3 roads going thru town that are 4 lane. Like Anchorage it has some one way streets downtown and at certain points they change the names of some streets but from my standpoint much easier to get around than Anchorage but then it is smaller. We then went to Alaskaland which you can get into free but virtually everything in it costs money other than kids can play on a lot of play equipment free. The big attraction is their Salmon bake and a theatre show but it is not cheap! I was about $25.00 each for the Salmon bake. Since we have our own Salmon we did not do this. Alaskaland is basically a tourist trap in my opinion. They do have a big old paddle wheel boat that costs $2.00 pp to look around on and they have tours which would be OK. They also have a Pioneer Airplane museam for $2.00 pp. After that we tried the Royal Fork and found out they had closed so settled for Pizza at Pizza Hut. We did find prices about 30% higher than Sioux Falls here. We then drove about 20 miles north and checked out a couple of camp grounds a fellow parked by us said were not bad. He also gave us a great map showing the Fairbanks attractions and a place where you can buy Musk OX hair from a shop a lady runs and net your own as Musk Ox pieces cost like $200 but is is some of the nicest, softest material in the world and very, very warm. He also showed us where a close by laundry mat and where the RV dump and water places were. I showed him my battery bank. He had just retired and they have been on the road since June 1st. They are from MN. We find everyone is so helpful and willing to share info and visit every where we go as most are in there early 60's and are from what I call the old school and a lot are from west of the Missisippi.

View of University of Alaska, Fairbanks(CLICK ON PICTURE To ENLARGE)
We decided the campground was to far out so for now we are just going to stay at the SAMS lot as they have a huge lot and we are clear off on the back side next in the far northwest corner and the customer parking does not come back here as it is a long walk to the front doors. We seen lots of campers loading two carts plumb full into their campers so SAMS and WALMART know what they are doing! They get some very loyal customers from Rvers. It is really a lot quieter here than the parks we have stayed in. Everyone is good about not running generators. BTW is is chilly here in the mornings getting down close to 40 degrees at night. It gets to 65 to 70 during the day so far. We will do day trips out of hear to Chena Springs, Circle and Manley Hot Springs and then decide if we will move to the CG we looked at to leave the 5th when we go to Prudhoe Bay or just leave it here. I called Hollis Hall who was my boss years ago at SDSU and now is retired and lives here in Fairbanks but they were not in so I left a message I would try again tomorrow. We then looked for a place on the ridge north of Fairbanks where I could get E-mail from and make skeds and we found what is called Skyline Dr. and Edith spotted some ham antennas way up on top as we were turning around. We drove in and found a huge, beautiful log type house. It had a walk in bottom level built in the ground and two stories above that! He turned out to be KL7AF and his name was Len. We had a great visit and found out he is flies a plane as a hobby and he wants to take us up on Tuesday so we need to call him Tuesday morning. I showed him my pictures and he also told us about the contest station KL7RA has put together out on Chena Road. We can operate from his yard for the schedules which has a great shot toward stateside out over Fairbanks. We are working on our list of what to have in the F-350 for the Prudhoe Bay trip. We will see if we can get a room but they are pretty booked up and want $125 a night so we may have to sleep in the pickup if they are full. We figure a day up, a day for the tour and possibly a sight seeing charter and a day back so they would mean two nights out. I am working on the computer know and it is about 12 midnight so got to get to bed and get some sleep to get up and get going for the Discovery Boat cruise.
Day 57 August 6th Monday
Today we took the Discovery paddle wheel cruise boat down the Chena into the Tenana river. I has 4 decks and carries about 500 people and is very nice. It only needs about 4.5 feet of water to float. They had programs along the bank. They had a brush plane take off and land right along the bank as we went by I was amazed how short of a run way a brush plane needs. We seen Susan Butchers dog kennel, see the dogs pull, seen a fish wheel and fish camp and an Athebasca Indian village showing their heritage with demonstrations. It was a worthwhile trip. After that I called Hollis Hall who was my boss for awhile at SDSU and we had a nice visit and we are going to get together in the morning. We then had dinner and decided to drive out to Chena Hot Springs. It was a good road, very wooded and hilly. Fairly similar to the Fairbanks area but a little more rocky. We made the sked and talked to Floyd WB0MZB and found out the hot weather was still very miserable back home. We then talked to our son Curt K7BI and had a great visit. After that we sent and got our E-mail. It is nice to get the E-mail addresses and catch up on the news. It was especially good to get one from Delores, Edith's sister. We than headed back to Fairbanks. We stopped at KL7RA who has 6 towers and took pictures but no one was around. We also stopped at KL7FAL Rudy but no one was around.. It is about 9 pm and we will have some supper and it looks like tomorrow will be a pretty quiet day seeing Hollis and checking out the airplane ride with Len KL7AF mid morning.

Athebasca Native coat(CLICK ON PICTURE To ENLARGE)
Day 58, August 7th Tuesday
We got up about 6 am and Edith got our laundry ready and I dropped her off to do that at a place we found out about from Jim and Sharon from MN that are next to us and I headed for the Alaska Railroad Depot where the model trains club has their display. I met Hollis there my old boss and we had a great visit. At 8 am I followed him over to the visitors center where we had been before but he works their a couple of days a week. He found some more tour info for us, maps, etc and we had a great visit. I then went to the Public Lands Information Center a couple of blocks south and got some excellent information on the Dalton Hwy and also on the Circle and Manley Hot Springs Road and the springs. These people are extremely knowledgeable and will help you plan trips and have personal experience to draw from. I would highly recommend people visiting Fairbanks to take advantage of these tow places as they are top notch. The visitors center has several telephones you can use on the desk that you can call local numbers, 800 numbers or use your phone card. It is really nice as you have a desk to write on and can be looking at any literature or maps that might be appropriate. The place to park is the public parking place and then walk across the river on the bridge. It really is only a block and the Public Land Information center is just two blocks south and across the street to the west on the corner so very handy.
I called Len AL7AF from the Visitors Center and we are set to meet him at the airport tomorrow at 9 am to go flying. I then picked up Edith at the Laundry Mat and we went to the 5th and got ready for a day trip to Manley Hot Springs which is a little over a 300 mile round trip of which about 220 miles of it are gravel. It is very nice scenery and the gravel was quite good. We visited with the trading post owner drinking a bottle of pop and the people at the Manley Srpings Road House eating Pecan pie and found out the town has access to a river and it got started about 1900 because of the gold exploration. The river drains a large area and on the way in we could see miles and miles of water and lakes. Apparently dog sleds would of worked well to get there in the winter. Now there is fishing in the summer and in the fall hunting and winter snow machines and sking and of course some tourists in the summer. Locals told us a lot of PHD and other professionals who have dropped out of society live around Manley. It is known in AK for weird people buy we really did not pick that up at all. We also seen the hot springs which are very primative and actually in a green house. It was 3 nice size cement tanks and each one is slightly cooler. You can rent it all for yourself at $5 per person. The lady was very nice and let us look. We then headed back and stopped around mile marker 100 where some locals were picking Blueberries when we went out. There were a lot of them and we picked a gallon of them and then drove to a ridge and made contact with WB0MZB and then headed on into Fairbanks. We could see Denali faintly but it was quite hazy. I took a walk and visited with Jim and Sharon from MN and Edith is over there now helping her with knitting the Musk Ox wool called qiviute (KIVEEUTE) which is 8 times warmer than sheep wool. They told us about the Trading Post on the way to the Arctic Circle and a fellow who sells furs and beads at Wiseman north of the Arctic Circle they had a good time at when the took there trip a few days ago about half way to Prudhoe Bay. The said that part of the road was not to bad.

The hot tubs at Manley Hot Springs(CLICK ON PICTURE To ENLARGE)

Manley Hot Springs Roadhouse(CLICK ON PICTURE To ENLARGE)

Manley Hot Springs Roadhouse inside(CLICK ON PICTURE To ENLARGE)
Tomorrow we hope to fly if the weather is OK and then go to the Farmers Market and Cramer field where some migratory crane and geese are and then I need to change oil on the F-350 and get ready for a day trip to Circle on the Yukon for Thursday and then Friday to head for Prudhoe Bay. I wan to make some contacts north of the Arctic Circle on SSB and RTTY.
Day 59 August 8th Wednesday
We went over plans for the Prudhoe Bay trip and then headed to the airport to meet Len AL7AF for the airplane ride. He met us at the pre-arranged spot and he told us to meet him again where they fueled up the airplanes. We parked where he suggested and meet him. He checked us out on safety items and we had a nice visit as he was doing the pre-flight checks and fueling up. We then loaded. and found it was very interesting as we all had headphones and a mike so we could talk to each other and hear all the radio traffic. If he wanted to transmit he held a red button on the stick. It was a Cesna 173 as I remember, single engine 3 passenger or if you reduce cargo a 4 passenger. He got clearance and they had us take of on the main runway that the commercial planes use which he said had never happened all the times he had taken off. We took off and went by his house on the hill and then out the the east, northeast into the bush and then went north and seen from the air where we had been yesterday. We seen the BLM winter snow machine and ski trails, White Mts., pipe line. It was hazy out in the distance but we could see a long way and it was very smooth. He had a GPS for aircraft that he could look at ground features as well as personal experience. We then headed west into the lake/river country I talked about yesterday called Minto Lakes and then ended up west of Fairbanks and approached from the west. We were directed to land on the ski runway which in the summer is a gravel runway. Len said that was a first also. He landed perfectly, very smooth and realized we had been in the air two hours. The lakes had all different color algae in them so they were very pretty from the air. I tried to pay for his fuel but he would not hear of it! A very, very nice fellow! His wife has relatives in Aberdeen so I hope they visit us at Salem sometime! He really enjoys flying and has a company called Mr Electric that does electrical contracting.

Picture of Len our pilot and ham friend from Fairbanks(CLICK ON PICTURE To ENLARGE)

Picture from air of amazing color of plant life in lakes in Minto Lake country(CLICK ON PICTURE To ENLARGE)

Picture from air of Minto Lakes area Northwest of Fairbanks(CLICK ON PICTURE To ENLARGE)
Next we went to the Farmers Market and got some Fairbanks grown lettuce, cucumbers and tomatoes. We then went to Cramer Field which is a bird area which was full of wild geese and cranes. I got some great pictures with the telephoto lens.

Geese at Cramers Farm east Fairbanks(CLICK ON PICTURE To ENLARGE)
We then went to the 5ths and I changed the oil in the F-350 and worked on putting a Bug Catcher on the front and fixed up the 12 vdc wiring to do E-mail from the pickup. I checked at the auto store for knife switches but they did not have any. I then asked at SAM's and found out a place that would take used oil so took it there, dumped some garbage at the public site we found and got some diesel for tomorrow. It then went up on Skyline Drive for the sked but no one was there but did get and send E-mail and had a message from Arliss W7XU on our Ghana trip leaving October 24th. Spent the evening going of Prudhoe Bay details and working on the computer. We need to get to bed early as we have really been short of sleep for a long, long time and we need to get up and get going in the morning to go to Circle which is on the Yukon.
Day 60 August 9th Thursday
Today we went to North and East of Fairbanks about 170 miles to Circle, AK which is on the Yukon. I suppose that is about 150 miles from the AK/Canadian border but of course it is just "BUSH" between. It is about 100 miles north of Eagle, AK where we were when we first entered AK so we have almost come full circle. Eagle has a lot of native population and appear to use the Yukon to got up and down to rivers that enter it to fish. We did get a nice boat picture of a group of natives on the river coming up to dock at Circle. We then headed back and at Central went south about 8 miles to Arctic Circle Hot Springs. There is an old lodge, lots of cabins and camping spots. The pool is huge and the water was nice and warm but not burning hot. They said about 103 degrees. It ranged from 4 ft to 12 ft deep. We met a young couple that was also at Manly Hot Springs when we were there. It was $5.00 pp to swim all day and $10.00 pp for 3 days. She said she had a lot of hunters coming in tonight as the season starts tomorrow. We must of seen 50 rigs with trailers and 4 wheeler on our way back to Fairbanks. We swam about an hour which is enough in warm water. If one would stay you could go say 3 times a day but only stay in about 30 minutes each time. She invited us to check out the lodge so we did. It is definitely rustic but nice with lots of history. Of the three springs this was our favorite. Chena is a lot more commericialized but has an oil road to it where Circle has 90 miles of gravel but it is good gravel and quite scenic. We then went to Central and toured the museum for $1 each and watched a good video on ALASKA GOLD. The fellow running it was from Ohio and they have spent their last 6 summers at Cental. Last summer they bought a cabin behind the Circle Hot Springs and this year they are fixing it up. They have power lines in the area but am not sure if they have a local generator or if the lines come in from Fairbanks. My thinking is a local generator as we could not see any lines on the way out or back. On the way back we seen the Davidson pipeline which brought water in for gold mining. It is an amazing what fantastic engineering they did that long ago considering the equipment they had. We did make the sked with N0ABE and WB0MZB but had some SWR problems. The insert in my stainless steel mast for the coil is lose as the weld is partly broken and I think that is changing the loading and then the input attenuator to the amplifier kicks in and that changes the loading again. Not sure what I am going to do abou t that. If I come to a complete stop so it is not moving around things seem to be OK. I may have to try and find a welding shop and see if I can get it welded.

Natives on boat on the Yukon returning from a fishing camp(CLICK ON PICTURE To ENLARGE)

Artic Circle Hot Springs pool near Central, AK(CLICK ON PICTURE To ENLARGE)

Davidson pipeline to carry water for gold mining(CLICK ON PICTURE To ENLARGE)
We got back to Fairbanks about 8 pm so it turned into a 12 hour trip. We had about 30 minutes waiting for road construction. The road from Central to Circle is definitely not as good as the rest. There are some pot holes after Central and then about 12 miles of washboard conditons. The last 10 miles has some real sharp curves. Still all in all for what we have been on in the past not bad and the rest is about as good as it gets for gravel so no complaints. Edith called the Caribou Lodge at Prudhoe Bay to be sure they had oil field tours on the week ends which they do so we will head of in the morning with the pickup, food, water, 10 gallons of diesel and two extra tires and plenty of blankets. We will sleep in the pickup if we don't make it all the way in one day and we see what room prices are at Prudhoe Bay as far as a room is concerned. Hopefully we can do some operating from up there to see how the DX is into Europe as that is as far north as you can drive in North America. It should not be a problem as long as a rock does not take out a window completely. We will believe it will not be a problem.
Day 61 August 10, Friday
We were off to Prudhoe Bay by 8 am and the weather started out nice but as we went north it started to cloud over. The Dalton Hwy which is gravel started out being a good road with some pot holes but mostly quite good as gravel roads go in the north country. We stopped at the Arctic Circle Trading Post which I would recommend as they are nice folks and the prices are decent and they have free coffee and tea. We bought sweat shirts and found out they issue Arctic Circle certificates to those coming back for there. We then headed north and to our surprise there were about 20 miles of oil south of the Arctic Circle but the last 25 miles is road construction and the road was bad being muddy as it was now raining and it was very rough. It was about 25 mph and we took a lot of rock peppering from trucks but none cracked the windshield. At the Arctic Circle we notice we had a tire about half flat and it was muddy from the rain and there were plenty of mosquitoes so it was not fun but it was better there in the parking area than out on the rode and for the moment it was not raining much. We then headed north for Cold Foot and found that was about 20 miles on oil which was again a complete surprise so all told we got about 50 miles of oil but that was it! At Cold Foot we got the tire fixed for $25.00 and found it had a self penitrating type screw in it. He suggested carrying about 50# in the tires. He said they took the rocks better if they had more flex.

Our second time north of the Artic Circle and both times a flat tire at the sign(CLICK ON PICTURE To ENLARGE)
The road was worse north of Cold Foot but as we got into the Brooks Mountain Range the scenery was fantastic with large montains, trees, lots of color on the rocks and tundra like plant life. Soon we seen our last spruce tree and the mountains were rock and tundra plant life. The rocks had lots of colors as well. It was the first day of hunting season so people were camped all along the road on pull outs. Eventually we got high enough we started seeing some snow patches. The pipe line is right along the road a lot of time. A few times it is just a few feet away. About half the time it is buried and what really surprised me was that for a long ways it is buried right in the river gravel and in one place the water was running over where the pipe was buried!

The beautiful Brooks Mt. Range(CLICK ON PICTURE To ENLARGE)
We went over the Atwan pass and the rain and cloudy spoiled the view so we were thankful we seen most of the Brooks and the prettiest parts very clearly with partly cloudy and good sunlight. We came down of the Brooks range and got into some rolling hills and definitely getting into the Tundra. At Oil Spill Hill we had supper. The Mosquitoes were quite bad so we put on the bug gear. At Happy Valley we hit construction and it had and was raining. The road was horrible. All kinds of rocks like a creek bed and very soft and muddy. I was concerned about getting stuck was how bad it was. One just could not believe the beating the tires were taking even driving 5-15 mph most of the way.in the construction area so we made very, very slow time., The last 50 miles is pretty good and one can go 40 or 50 mph which is just flying after have a couple of hundred miles were it is hard to avery 25 mph. We saw Franklin Bluffs which were not very high off to the east and to the west some Pingos which are hills formed by underground lake frost heaves in the tundra. The permfrost goes down about 2000 feet in this area and it is very flat as one approaches the Arctic Ocean and Prudhoe Bay. It looks very wet as water is standing all over and we seen lots of waterfowl but really it is the arctic desert but being cool the water does not evaporate and because of the permafrost can not get away. They have about 20 inches of precipitation a year but only 5 inches as rain and the rest as snow. As you can tell it really does not snow that much because it is so cold. It is typically about 35 below but often gets to -80 degrees F. so it is very cold. Most of the oil field work takes place in the winter as they can go anyplace on the ice and snow and not hurt the enviroment and do it very cheaply in comparison to building roads.

The Franklin Bluffs south of Prudhoe Bay(CLICK ON PICTURE To ENLARGE)

A large Pingo south of Prudhoe Bay(CLICK ON PICTURE To ENLARGE)
Tailgating on the Dalton going to Prudhoe Bay(CLICK ON PICTURE To ENLARGE)

Picture's just do not show how bad the road really was!(CLICK ON PICTURE To ENLARGE)
Day 62 August 11 Saturday
We saw the sun set about midnight as it had cleared off. We seen a beautiful sunset. At Prudhoe Bay we drove around but nothing was open so could not find a restroom which made for an uncomfortable night. The hotel was full. We eventually found out there was a port a potty at the Tesoro Station that is self service for fuel. We also could of went into the hotel and used the restroom there. We eventually parked off the road and got some sleep. We had lots of blankets which was good as it got down in the low 40's. We got over to the Arctic Caribou Inn about 6:30 a.m and found the café open and seen an Arctic Fox running around looking for food. They get what they call garbage bears and foxes even though you get fined for feeding them they find food dropped, etc. The garbage is all in bear proof dumpsters, etc. but they still find it. We found out the bears were around during the night and had broke into a vehicle thay had some food in it. At the Inn we found the restrooms which was a big relief, had a buffet breakfast and got our tour tickets. We lounged around waiting for the tour and then suddenly I remembered I had lots of pictures in my digital camera so I fired it up on the tailgate and downloaded them while Edith was getting a the food in the cooler to put in the car so we did not have bear problems. We are fortunate that we did not have a bear in our pickup box right behind the cab waking us up a few hours before.

Sunset at about midnight on the way to Prudhoe Bay(CLICK ON PICTURE To ENLARGE)
The tour took us to the Arctic Ocean which is a far north as you can get with a vehicle in North America on the contiguous road system adding to our most westerly point with the F-350 down in the Kenai Peninsula at Anchor Point a few weeks ago. We got plenty of pictures and I found out a lot of people take a quick dip in the ocean.. I had never thought of that or I would of come prepared to do that. I was pleased to stick my foot in as that has been a goal for a long time and it was accomplished not with out difficulty. We got lots of information on the oil production, future oil production and life in the area. About 25 people live there and the rest come and go in shifts. In the summer about 2500 and 6000 to 7000 in the winter when much more is happening as I explained earlier. The companies have airplanes that fly people up and back. We they are there they have what I would call dormatories to stay in with exercise and game rooms and satallite TV. Basically when there people work and sleep as they put in long hours. Once we were done with the tour we seen the northern most mini-mall in North America and then went to the Tesoro station which is the northern most fuel station in North America. We then found a spot along the water and set up the dipole and I worked some DX in England and some Russian stations. At 6 pm SD time I worked W7LFB, N6RL K7DZE and WA6YYY. The conditions for DX are excellent from Prudhoe Bay. Before going to sleep last night is checked and the band was great to JA and VK/ZL in the pacific. After the sked we headed back as there is nothing to do in Prudhoe once you take the tour and drove the few miles you are allowed to drive on as the rest is restricted to the public. We got lots of pictures around town and on the tour. After one last bathroom stop at the port a potty we headed off as it is 265 miles without an outhouse and there are no trees or rocks to hide behind for many miles south of Prudhoe Bay. We got some nice pictures as we headed south as the sun was shining some. As we left the good 50 miles it started to cloud up and we did get through the bad stretch to Happy Valley before the rain set in although it was still very muddy from the previous rain. I will say this is the worst road I have ever driven on. I though I was going to get stuck in the mud and was wishing I had put it in 4 X 4 because if I got stuck I would be walking in a foot of mud outside the rut and then I was not sure I could get moving again but made it without gettting stuck. There seemed to be a bottom below the muck which was from all the rock in the road. There are all sizes of rocks you are driving on in the mudd. I have never seen anything like it before this road. The Dempster to Inuvik is very bad and had lots of rocks but this was worse! There is no way you could of pulled a 5th through this. What made it even more interesting is 18 wheelers trying to fly by you and other pickup. These people drive like they ar nuts! I do not see how there tires hold up. I would never, ever, buy a used vehicle from Alaska. I tell you what you don't see any old pickups and they don't last long up here the way they drive. So far I just had one small rock chip down real low in the corner on the drivers side. The headlight covers have a star chip in then that saved a headlight. The F-350 is muck all over! It looks like a mud baha truck!

Always to be REMEMBERED FOR THEIR WONDERFUL BATHROOMS!!! WHAT A RELIEF!!!(CLICK ON PICTURE To ENLARGE)

The Artic Ocean at Prudhoe Bay(CLICK ON PICTURE To ENLARGE)

Edith with her hand in the Artic Ocean at Prudhoe Bay(CLICK ON PICTURE To ENLARGE)

Ed with his foot in the Artic Ocean at Prudhoe Bay, If I had it to do over I would go go swimming(CLICK ON PICTURE To ENLARGE)

Artic Cotton Plant(CLICK ON PICTURE To ENLARGE)

Sand dunes at Prudhoe Bay(CLICK ON PICTURE To ENLARGE)

Oil field at Prudhoe Bay(CLICK ON PICTURE To ENLARGE)

Mile zero of the pipeline at Prudhoe Bay(CLICK ON PICTURE To ENLARGE)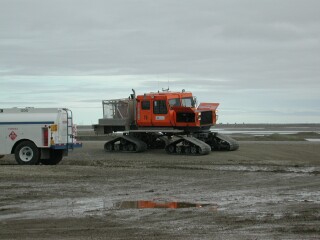 Track Machine used in Winter when all the work takes place in field to protect the artic tundra(CLICK ON PICTURE To ENLARGE)

Post Office at Prudhoe Bay, no school at Prudhoe Bay(CLICK ON PICTURE To ENLARGE)
After Happy Vally the road gets better but it still is only 5-25 mph so travel is real slow but traffic is way down. On the way up we met 134 vehicles of which 66 were trucks, 58 cars and SUV and pickups, 3 pickup campers, 3 class C and 2 Class A and one motor cycle and one bicycle. We only seen one Class C and no Class A north or the Arctic Circle but we did see the bicycle and motor cycle. The motor cycle guy went swimming in the ocean according to our tour guide.

The road sign leaving Prudhoe Bay! It is a long way to the next bathroom and there are no rocks or bushes to hide behind until you get down toward the Brooks Range(CLICK ON PICTURE To ENLARGE)

More bad road pictures; they bladed this on the road in front of me, again the pictures just do not show it like it really is(CLICK ON PICTURE To ENLARGE)




On the way back we met 91 vehicles of which 42 were trucks, 44 cars/SUVs/pickups and 3 class C and one pickup camper and one bus.





On the way up and down we don't remember seeing a car that made it to Prudhoe Bay and certainly no 5th wheels. I think a few Class C and small Class A have made it but it would be tough!!!





Back to the story, Edith said I think we have a flat tire and sure enough the tire I had fixed on the way up at Cold Foot was flat. It was muddy but the road was fairly solid down a little so with the practice the day before things were rolling along good and we had our bug mesh hood shirts on and we were putting the new tire on and the F-350 slid ahead on the mud but the hub caught on the new tire so there it is with the jack half tipped over just caught on the tire by about 1/8 of an inch. NOT A GOOD DEAL AT ALL! I am trying to kneel on boards as the mud is about 1 inch deep everyplace. I got some blocks under the axle of the pickup by shoving them under with some of my antenna poles because the whole pickup could come down so the brake drum rested on the ground if the tire slips off the jack the F-350 is going to finish tipping over. I then carefully let the jack down "STAYING OUT FROM UNDER THE TRUCK as it could crash down hopefully on my blocks if the tire pops off. I manage to get the jack out but have a horrible time trying to get it back under the axle. I finally figure out there are loose, but embedded pointed rocks coming out of the ground where I am trying to put the jack so this is just not going to work and I have to stay out from under the truch as it could come crashing down. Two fellows stropped who were on our tour of 6, small world up here, comes up behind and stop and they find a 2 x 4 in the ditch that is about 6 foot long so I put the jack on it and slide it under the pickup.

Well actually after several tries at getting the jack height just righ I get it under the pickup. Not and easy task in the mud and rocks sticking up and keeping the jack upright while trying to crank it up to get tight against the jack it tips over about 5 times and the mosquito's are bitting me just above the belt on my back as the mesh shirt did not stay down when bent over and mud all over my shirt and pants and the mesh is in your face and if you take the hood of the mosquitoes are in your face. Finally I get the jack tight and slowly start raising the truck as the 2 x 4 pops and snaps as the rocks gouge into the bottom of it as it presses down on the road. Actually it is a good thing as the rocks dug into the wood help keep it from slipping. Now the concern is if the jack will not slip on top of the 2 x 4 but it does not and slowly I get it up and get the weight of the tire that has just barely caught and is holding u the pickup. Carefully I maneuver the tire on the studs and quickly put on a couple of lug nuts. WOW! Finally safe at last!

We did see two wild Musk Ox which was a thrill!

Not much of a picture but about 1 in 10 round trips on the road see wild Musk Ox so we were thrilled!(CLICK ON PICTURE To ENLARGE)
The road was still pretty poor and 30 mph very occasionally was top speed. The good news were we were meeting hardly any trucks. Meeting a truck is a concern because of flying rocks breaking windows. The Dalton is a high grade above the Tundra and most places is wide enough to comfortably meet a truck but when this is muddy the shoulders are treacherous and one screw up and you are over a very steep embankment down 7 to 20 feet depending on where you are at. If you went over you would likely roll the vehicle in most places so when the trucks you meet are coming at 30 or 40 mph is it pretty exciting. I tried to pull over and stop when ever I could but some times you would meet on a hill. There are no curve signs, no reflectors, no red flags. About the only marking is once in a while a red pillon where the grade has caved away along the edge, that is about it! It started to rain more and as we got into the Brooks it got foggy. All the hunters were still along the road. We DID GET A REAL TREAT AND SPOTTED TWO WILD MUSK OX and then LATER ANOTHER LONE ONE ALL OF WHICH WERE ABOUT 200 yards from the road. BTW on the way up we seen a wolf. Toward dark we seen an Arctic Hare. Edith got pretty tense as se came down of Atwan Pass is pea soup fog. These down grades are often 10-12% so they are exciting expecially when it is muddy.
About midnight is was starting to get dark and we came on a mid size compact and a Japanese couple were out and he was changing a tire. She was standing by the side of the car rubbing her hands and had some hot coffee on the hood and definitely looked cold. I asked him if he has a good spare and if everything was OK. He walked over toward me and smiling said I'M ALRIGHT, I'M OK! I should of said something but I was so amused I just said GREAT! And rolled up the window and headed down the road and burst out laughing! THEY DON"T HAVE A CLUE! They are not OK and they are not alright! It would be a miracle if that car would get through the mud with out getting stuck let along not losing another tire if they had a second spare.. They are looking at 180 miles of the worst road I have ever driven in my life in the dark and rain and I have lost two tires now on an F-350 that are "E" load rated and they are going to take car tires on them, likely 13 or 14" tires. I came very close to getting stuck three times! I should of gave them some fatherly advice but it struck me so funny I did not do it!
For the rest of my life I will see that picture in my mind and here that broken, happy, upbeat broken English with a japanese accent saying I'm OK, I'm alright and I will start laughing until tears run down my face.. JOHN WAYNE ALWAYS TALKED ABOUT PILGRAMS OUT WEST WELL I MET ONE UP NORTH AT MIDNIGHT ON THE DALTON /HAUL ROAD!
Day 63 August 12, Sunday
Edith is getting very tired buy I am wide awake after the tire encounter and the Japanese encounter so I am super charged so we keep forging ahead and slowly the road gets better but the rain and fog gets worse. We make Coldfoot and I have enough diesel to make the Yuckon for sure and likely Fairbanks on one tank. WOW! A lot different than pulling the 5th we are getting 16 or 17 mpg here! We pick up the 30 miles of oil past Coldfoot and fly along. It is great! Then we hit the muck and 25 miles of construction. We are starting to meet some trucks but for once they are not a problem as THEY ARE GOING SLOW! YOU KNOW IT IS TOUGH WHEN THEY ARE GOING SLOW AND SLOW UP AND MOVE OVER FOR YOU! I MEAN YOU KNOW THEY ARE STRUGGLING ALSO! I decide I am going to make the Arctic Circle sign where there is a toilet! Edith about goes into orbit going down the 12 per cent grade, fog like pea soup, no reflectors, are markings and mud and steep shoulders. It did not bother me much but then I was driving and thngs felt stable. One time I came to the top of what is called Gobblers Knob and was not sure what was the road and what was a turn oujt. It took awhile to figure out which was which. We finally made the rest area and as we pulled in a Lynx took off for around the picnic area. We parked and got the blankets out and it was not long before I fell asleep. It got a little chilly in Prudhoe Bay but it was OK here although it did get down in the 40's. I woke up once just as it was getting light but went right back to sleep. The next time it was a little after 6 am so I got out to go to the bathroom and about fell down. It was like getting off a boat after being on waves all day. I finally got my balance back after walking around awhile. We headed off and had about 2 miles of muck and we hit the second stretch of oil which is about 20 miles long. Then the 25 miles that are very bad and then it gets real decent. I think I commented about 5 times how great it was to have a good road. Man you could roll along at 50 mph. It was great. We stopped at the Yukon and took a picture of the bridge, WOW! And a bathroom stop and off again. We hit the end of the Dalton and on to the Elliot which is gravel. This was our 4th time over this road. We stopped at the Arctic Circle Trading Post and got our Arctic Certificates, visited about the road with the people there and also with a tour group in a van going up. It is about $900 each to go up and a van and back. We got back to Fairbanks on one tank of diesel with a little to spare and about 52 hours after we had left. We spent the rest of the day cleaning up, washing the truck at the city RV dump where we found they had a faucet of to the side one could use. We took our RV brushes, pails and rags and still it took about an hour. You can not believe the mud on everything!

The Yukon River Bridge on the road to Prudhoe Bay! Most people turn around here or at the Artic Circle.(CLICK ON PICTURE To ENLARGE)
We then went out for supper after stopping at the visitors center and finding out where we can buy a tire tomorrow as I had a service station check the flat and it appeared to be cut enough by a rock that it is not worth the risk to try and patch it. I met Curt on the radio and as always up here I can hear everybody but he could not hear me well. I could hear a lot of AURORA on the signals Time to go to bed, getting very blurry eyed!
Tomorrow get a tire, check out welding my stainless steel mobile mast where the insert is very lose after the Dalton trip , dump and get water and head South of Fairbanks on the Richardson toward Delta Junction and I guess you would say officially headed south toward South Dakota but still much to see. I am now confident we will make our goal of driving every highway in ALASKA that is shown in the front of the Milepost of which several are very poor, grave; roads such as the Macarthy Road and Dalton HWY.
Day 64 August 13 Monday
Got up about 7 a.m. to get down to American Tire to try and get a new tire for the flat on the way back from Prudhoe Bay. They said the old one looked like it could be fixed but if not they had a new one, installed for $129 which for Alaska was a good price, ie better than stateside. He said it would be about 1 hour so I asked about a welding shop and the suggested Fairbanks Welding and gave me directions. I found them easily and took the antenna apart so he could see my mast problem. The five foot stainless steel masts for the HAM RADIO Bugcatcher antenna has an insert spot welded in each end for a 3/8 inch NF stud and the spot welds break and the insert gets loose and flops all over. I was concerned it might rip out of the tube and I would lose it along the road. He said he could weld it but it would be about an hour. Apparently the standard put off in FAIRBANKS. I went back to the tire place and they fixed the tire so I got by for $14.00 and then headed back to the welding shop and they had it done. They welded all the way around rather than spot welding so it will hold now. A definite design problem I have to call to the Bugcatcher company. I then headed for the trailer and we started loading up to move. A neighbor came over and asked me about my cable to the trailer and 2 hours later of a great visit I learned a lot and he learned a lot. They had a nice trailer that Edith and I looked at. I had a double slide in the living area but no bedroom slide. It was nice. He had a solar panel, inverter wired in and a good switch and was very knowledgeable. Besides supply places on the INTERNET and catalogs and best prices he gave me the following ideas:
1. How to mount the solar panel and get the wiring in
2. How to charge my coach batteries using my battery bank
3. How to put a tank in so the demand pump does not run all the time.
4. How to wire up an inverter so one has some outlets readily available for 110 VAC things
5. Another fellow stopped by and we discussed just leaving one tire on if one loses a leaf spring and the tires come together to limp into a garage.
6. Charger off an inverter or off the generator to charge the coach batteries or for emergency the battery bank.
He really liked my high amperage DC connection on the line from the battery bank
I was able to give them some information on places we had been in AK they were going and we exchanged E Mail addresses.
We then ate and packed up and left. We dumped and filled up at the public RV site the Fairbanks has and headed south on the Richardson. We stopped at North Pole, AK. As we went south it was sunny and clear and we could see three high mountains in the Alaska range. We first though it was Denali but it was not. We got lots of pictures and eventually found a beautiful view from a pull out over the Taranna River valley where we took more pictures and eat supper outside the trailer sitting on our chairs, no bugs and the weather was perfect. It was wonderful! We had some nice visits with people that stopped. We stopped at the Knotty Shop and purchased some Alaska rememberances. I got a King Salmon made by a native using Alaska wood. They also had some unusual figures made from burl wood.

North Pole, Alaska(CLICK ON PICTURE To ENLARGE)

Alaska Range south of Fairbanks(CLICK ON PICTURE To ENLARGE)

My Alaska Wood King Salmon to remember the real one I caught(CLICK ON PICTURE To ENLARGE)

An amazing job using wood. The had about 10 animals, a very worthwhile stop south of Fairbankds(CLICK ON PICTURE To ENLARGE)




We then headed south for Delta Junction and went south to Pump station # 9 and found out tours are at 9 11, 1 and 3 so we are parked at a pull out a few miles south and we will run back in the morning and see if we can get on the tour. It is limited to 10 at a time so we might have to wait awhile.





Day 65 August 14, Tuesday





We got up about 7 am and got ready to try and see if we could get on the tour of Pump #9 station on the pipeline. The only take ten people per tour. There were two other couples when we arrived so it looked pretty good but as time went on more showed and it looked like we might have to wait. The tour guides came in about 5 minutes late all flustered because one of them had over-slept! I think they were in a generous mood since they were late, anyway they took us which made 12 people which turned out not to be a problem at all for anybody as we still were a small group. We had to go through a metal detector and watch a safety film but we went in all the buildings except where the main pumps are because it is to noisy but we seen the engine and how it was set up in another room which was one that was out of service. This was our third pipe line tour, first at Valdez, second at Prudhoe Bay and now pump station # 9 south of Delta Junction and that is all there is and I will say this was by far the best one for information. The terminal at Valdez is of course a lot larger and they have more things with the loading docks. We have enjoyed them all. It was about 1.5 hours in length and we were in the control room and the operator answered questions. After that we headed south on the Richardson for Paxton and the Old Denali highway. We seen some pretty scenery in the Alaskan range and got fuel at Paxton and headed west for BLM Tangle Lakes CG which I had read about in travelogues. It is high country here, basically no trees but lots of berry bushes and August is berry month so we should get some. We find this to be a NO FEE campground so that is nice. We will leave the trailer here and do two or three days of day trips to finish traveling on all the roads in the MILEPOST in Alaska. We need to take this road to Denali and hopefully see Denali on last time so we will look for a clear day to do that. One day will be down to Glennallen to the TOK cutoff corner where we were over a month ago and possibly another day for berry picking a processing. I had a great contact with the fellows at 6 pm and then at 9 pm I had about an hour chat with Curt K7BI with great signals both ways. For some reason I can not connect with any station for E-Mail tonight so will just have to keep trying from time to time. I thought maybe a cable got broke but it works on RTTY so that should not be the problem.





Our tire that has been patched twice was low and so we changed it for the third time and that is it. I am done with it. I am just going to get a new tire! With hindsight I should of just done that at Fairbanks, oh well live and learn!





Day 66 August 15 Wednesday

We tried to get the weather on Glennallen but missed Caribou Clatters and the weather and since it looked cloudy toward the Alaskan Range we decided to go to Glennallen and try toward Denali tomorrow for a clear day. Other than three road construction sections and two pilot cars the trip went smoothly. New scenery was the Gulkana River and Sourdough, AK where KL7HF Del has a cabin. It is a nice area. We seem some large high country lakes in Summit and Paxson Lakes and some other smaller ones as we went south on the Richardson. While still on the Old Denali we noted where some Alaska license plate cars were picking berries for future reference. We stopped at the Copper Valley visitors center and asked about a place to get a tire. She said it was a small town but gave us some places to try. On there weather sign they mentioned the smoke we had been seeing and this is the first time we found out it was coming from Siberia, RUSSIA! Appearently they are having some huge fires. The locals said a few days ago you could smell it even. We found a garage that sold tires and was able to get one for $112.00 balanced and mounted so I went for it immediately as I have changed this other one 3 times already. Come to find out the fellow grew up in Brookings and moved up here a few years ago. He missed the SD summers and swimming and water skiing! He said it just does not get warm here during the summer. We then had dinner at the local drive in and Edith said it was the best hamburger she had in a long time! We then got gas, Edith bought some gifts and I got a couple of knife switches for their Radio Shack section that will speed up switching between battery banks. We then headed back for the 5th but went up the TOK Cutoff a little to get a picture of Mt Sanford and Mt. Hood which had a lot of clouds when we came by about 5 weeks ago. We got some great pictures.





We talked to the flag girl at a pilot car wait north of Glennallen and found out she makes $33.00 and hour and it was her first summer flagging. She is leaving for college in BC as a Jr. in nursing. She said Tangle Lake where we are at is a good area for berries and said there are very low growing berries that are called Black Berries or Crow Berries. We know what Low Cranberries and High Cranberries are and Blueberries.





When we got back to Old Denali Highway we pulled up a turnout where we had spotted berry pickers in the morning ant found lots of them. We did find a larger black berry we don't know what it is. After picking a few pints we headed for the 5th but spotted some local berry pickers so I talked to them. They did not know the name of the larger black berries but said the locals usually ignored them as they were pretty watery. BTW there are huge mushrooms all over up here so I asked her about them but she did not like them and did not know which were safe. We should of done more research on the INTERNET in regards to the types of berries and mushrooms! Hopefully we can find a local who can really fill us in!

Checked the 9 pm sked but no one we there so I decided to follow the trail up the hill and on to a long ridge to the north over looking the CG and Tangle Lakes. It was a huff and puff up the steep hill but the ridge was easy. It was about 2 miles and lots and lots of berries on the ridge. Mainly Low Crarnberry and Blueberries and a few Blackberry.





Got back to the 5th and spent the rest of the night working on the computer.



Link to Part IV