2006 Trip to Asia. Countries visited were Thailand, Laos, Honk Kong and China. We spend about a month in Asia. If you are interested in travelogues please contact me via e-mail. The subject should be something like Asia Travelogue' so I notice it in my spam filter.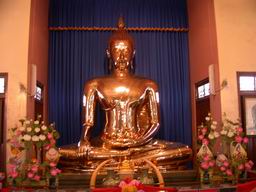 Budda Statue in Bangkok.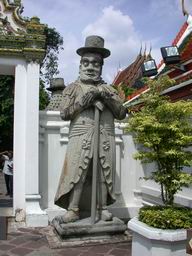 A statue they believe keeps evil spirits away.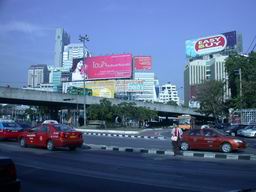 Bangkok.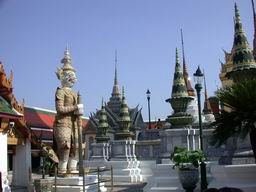 Temple scene.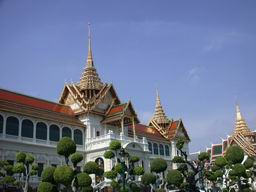 Government Palace.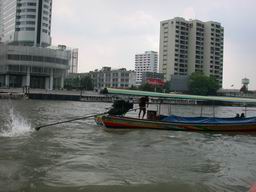 Long tail boat on the river in Bangkok.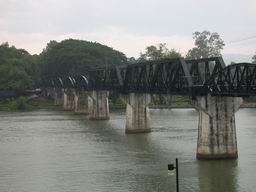 Famous Bridge over the River Kwai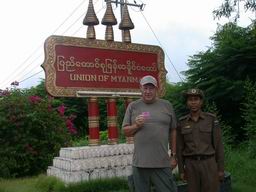 Picture of me entering Burma now called Myanmar.
Wooden Bridge in northern Thailand.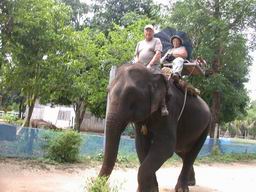 Now we can add riding elephants to our list.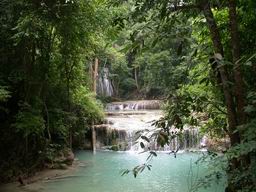 Erwin Falls, this is one of seven different falls coming down the mountain.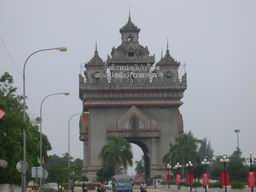 Vientiane, capital of Laos formally French Indo-China. Replica of the French arch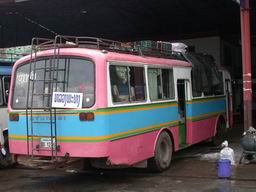 Bus we rode across Laos, over the mountains, to the old capital Luang Prabang.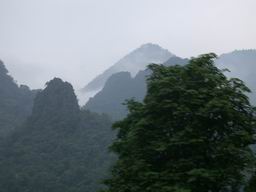 Beautiful misty mountains in Loas. We had never seen anything like this.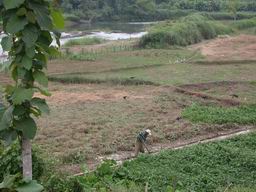 Farming in Laos. Our bus had an armed guard which has stopped robberies of the bus.
Former government building in the old capital of Luang Prabang.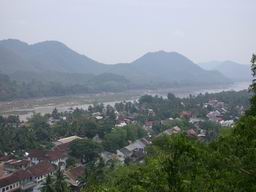 Luang Prabang and the Mekong River.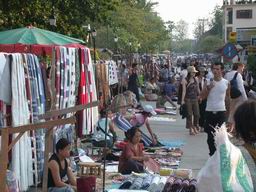 Evening street market in Luagn Prabang.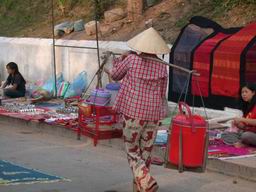 Local lady in market.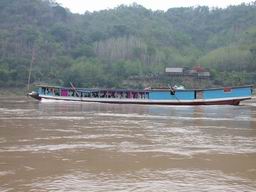 Long boat on the Mekong River. This one was hauling cattle but most haul people.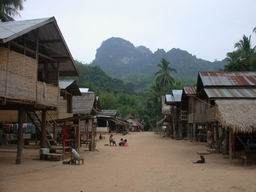 Village along the Mekong River in Laos.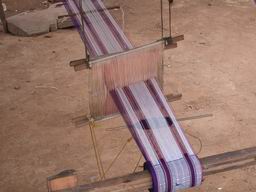 Trade of weaving in village.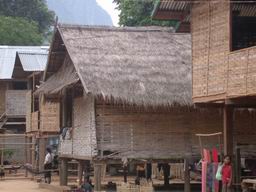 Shows thached hut construction.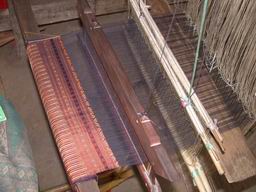 More weaving, the products made are used in the villages and also sold.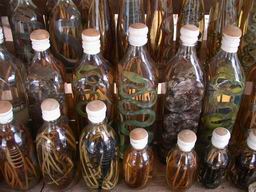 Whisky with various reptiles. This is considered medicine.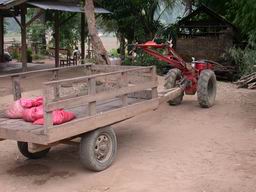 These tractors come from China and are used in a variety of ways.
Home made musical instrument. He played these and also sold them.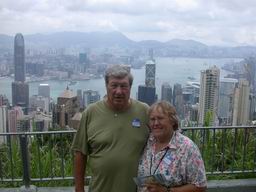 On the "PEAK" in Hong Kong on a foggy day.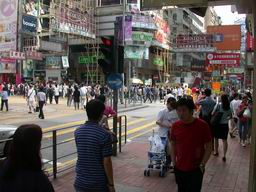 Downtown Hong Kong. In the evening they close a lot of streets and have street markets and this picture would be full of people. A city of sounds, smells and all sorts of activity.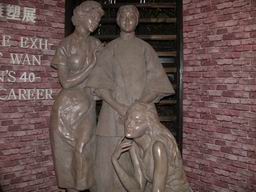 Clay statures crafted in China Guanzhou, pronounced Gwang Joe.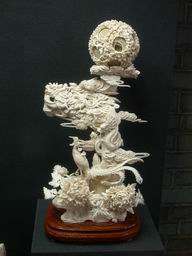 Bone craftmanship in Guanzhou China.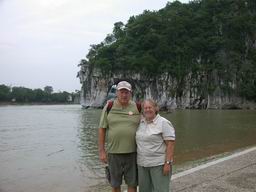 Guilin China, a beautiful misty mountain region where several US presidents have toured.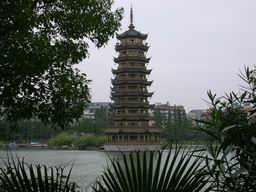 Pagoda in Guilin, China, there was also beautiful lighting along a waterway that went between several lakes.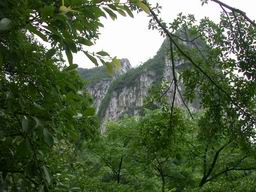 Mountain in Guilin China.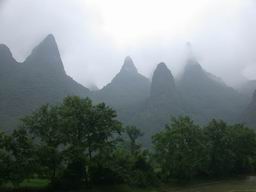 Li River tour of the Mountains not to far from Guilin.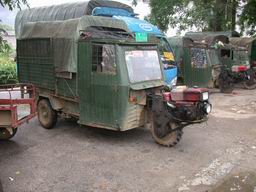 Homemade Vehicle made from this garden tractor.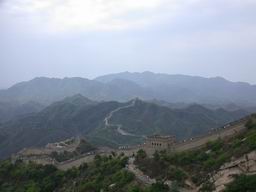 The Great China Wall north of Bejing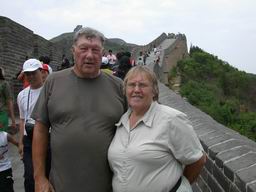 The great China Wall.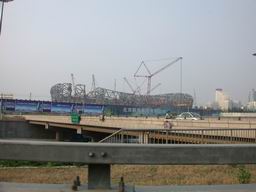 What is known as the Birds Nest is the Olympic Stadium for the August 8, 2008 Olympics.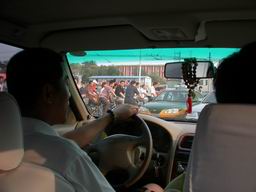 Traffic and bicyles in Bejing. Often bicycles have there own street. May of the larger cities are trying to outlaw motor bikes where possible as they are dangerous.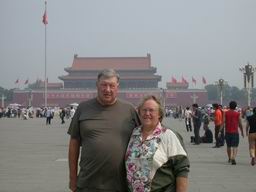 I never though we would be in Tian An Men Square Bejing China but here we are, China.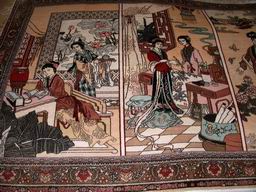 Beautiful silk rugs in Bejing but they are all over China. We purchased a beautiful bed spread and are kicking ourselves we did not get a rug.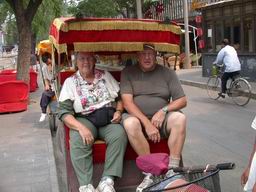 Rickashaw ride in the old part of Bejing.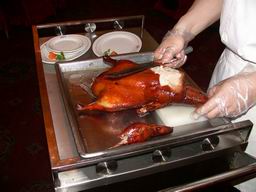 Peking Duck in Bejing. we invited our guide Beaudy to eat with us for his birthday. It was a great time.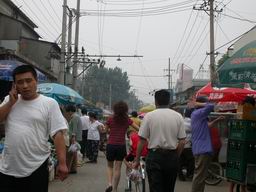 Edith and I walked around the cities we visited without a guide. It is very safe. This was a street market in Bejing.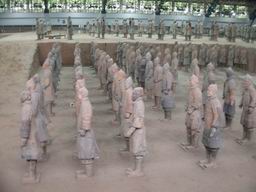 Xian pronounced Cyan we seen a city wall and TerrocottaO Warriers. Some of our presidents have been here. He had these buried in his tomb area. You can do a search on the internet for more information. You could have one made and shipped home. We walked around this city a good deal.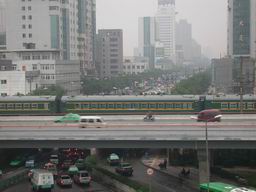 Picture of down town Xian. There is a lot of smog in China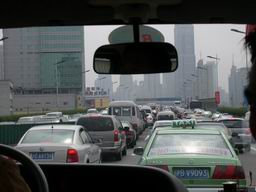 Traffic in Shanghai. I could live here for a month no problem. The jewel of China for a progressive town and lots of interesting things happening here. You could live very reasonable here and enjoy all the conviences you are used to. The fastest train in the world brings people from the airport into Shanghai.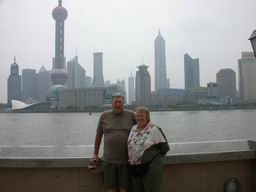 This is a TV tower and observation building in Shanghai. Notice the smog. Our guide here really knew English well!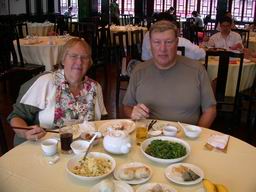 We seem severa; great performances in China. This is a famous Lu Bo Lang restaurant, in the top 10 of restaurants in China. President Clinton and his wife eat right here. We also ate the famous Shanghai Steamed Bun. The museum here is excellent.