2007 AUSTRALIA TRIP of about 17000 miles in February through May. We bought a car and traveled around Australia for 3 months including Tasmania. A big thank you for the help and great hospitality of David VK2CZ and Martin VK7GN, Steve VK7US, and Sean VK6BDB and other Radio Amateurs in Australia. David VK2CZ help was so valuable in getting and selling the car, insurance, getting our amateur licenses, getting the equipment mounted in the car, keeping track of us, loaning us his cell phone and the list goes on! Thanks DAVID!!!
If you are interested in our E-mail travelogues you can contact us and I will send them to you. The e-mail addres is on this site. With the spam problems now days please use a subject like Australia Travelogues so I see it in my spam filter.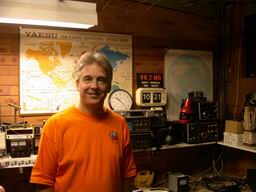 David VK2CZ who I mentioned above helped in in a multitude of ways.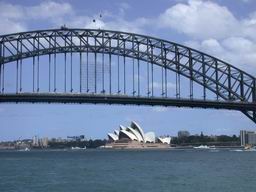 The Icon of Sydney the Opera House.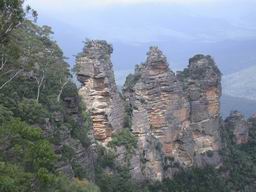 The Blue Mountain National Park west of Sydney. From there we went into the outback and met a couple who migrated here from the USA and had a vinyard. They invited us to their home and we had a great time. They told us about their town Gulgong an old mining town that has been restored and a museum which was most interesting and then we went to the Great Western Zoo at Dubbo. We have been so impressed with how friendly and helpful people are. The Australian's are the most friendly of anyplace we have ever been!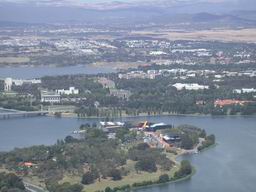 We have seen a lot of Australia by the time we got to the Capital Canaberra. We have been amazed by the number of Gum Trees and parrots in Australia. We have had some 100 degree plus days. Canaberra is a planned city and is an interesting place. The winning design was by a planner from Chicago. Of course the seasons are opposite of ours and the sun tracks in the north not the south. They use the metric system and drive on the other side of the road.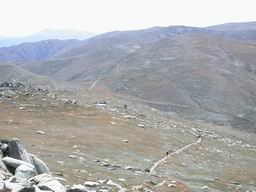 We are now in the Snowy Mt. region and this is Mt. Kosciuszko the Highest Mountain in Australia. They do ski here in the winter which would be July and August.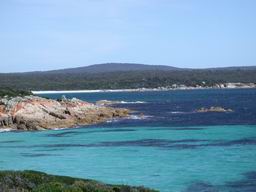 We put our car on the ferry and made the all night trip to Tasmaina. This is the northeast coastline.
More of the northeast coastline of Tasmania.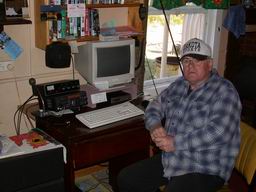 Steve VK7US where we stayed in an old mining town. We had a good time here as it is wooded and lots of Australian wildlife. We also met Chis who lives near us in the summer time in the USA. Steve has been to the USA two or three times and kept in contact with us as we traveled around Australia and since we have gotten home.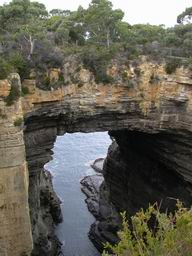 Natural Bridge Tasmanian Arch.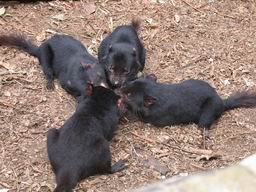 Tasmanian Devils.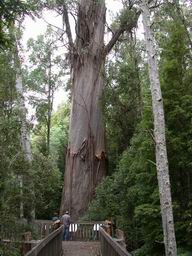 Huge Swamp Gum Tree at 74 meters or 243 feet.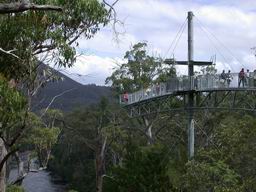 This is called the tall tree walk which is at tree top level and here cantilever's out over a stream.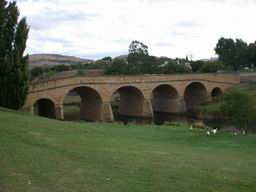 Oldest bridge in Australia at Richmond, Tasmania. We also seen the old convict prision at Port Arthur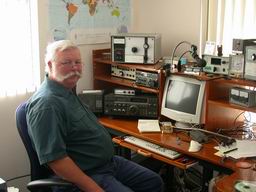 Martin VK7GN our host. We stayed in the guest house wing, operated his equipment and he cooked us many great meals and took us touring and recommended a lot of places for us to see. He and Linda were wonderful hosts.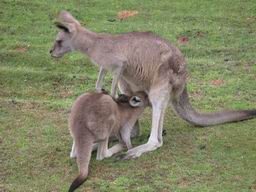 One of thousands of Kangaroo's we seen.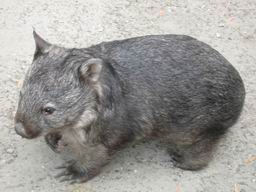 Wombat native to Australia.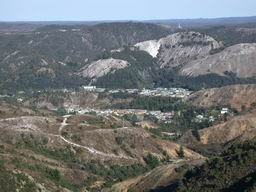 Mining town, Queenstown on the west coast of Tasmania.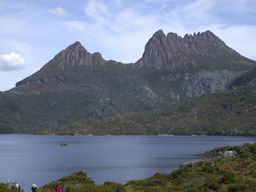 Cradle Mt. National Park on of the more popular in Tasmania.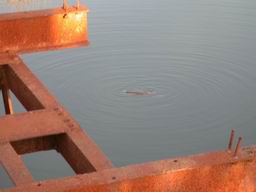 This is at Warhata and we stayed at a campground run by the city. The first Hydro-electric in Australia was here and the two last Tasmanian Tigers were trapped here. One died but the other lived in the zoo at Hobart for a long time. There are some possible sighting reported but nothing confirmed so they are probably extinct. There are pictures of them all over and they are like a big dog but had stripes like a tiger. The highligt here was seeing Platypus's in the lake by the camp ground. Tasmania is really the only place in the world you will see them.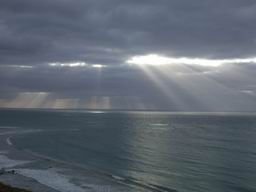 Rain over the ocean on the north coast of Tasmania.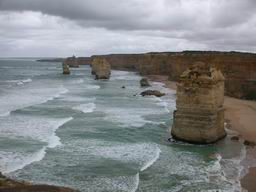 Famous 12 apostles on the south coast of Australia west of Melbourne. The Great Ocean Road is a nice scenic tour.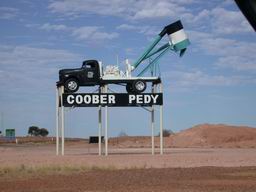 Coober Pedy is a opal mining area with a very hostil climate. It is very hot and many black flies so a lot of the town is underground.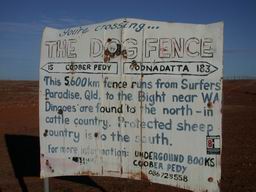 Dog fence to keep the Dingo's, a cross between a dog and wolf, from getting into sheep county.

Break Away Hills NW of Coober Pedy. The road out here is gavel and is horrible with a very bad washboard surface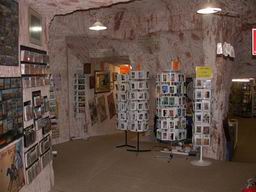 Coober Pedy underground bookstore.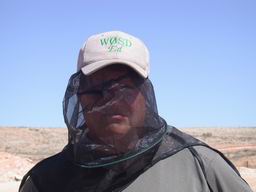 Head nets to keep the black flies off. They are a horrible curse and want to get into your eyes, ears, noise and mouth. They are looking for moisture and are unbelievably persistent. The OZZIE salute is waving both hands back and forth by you head to try and keep them away. In this area they are bad for about 8-9 months out of the year. They are wide spread in Australia.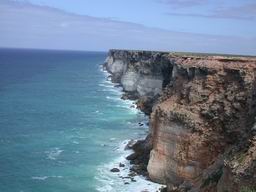 Along the southern Coast line along the Nullarbor which is a treeless plain.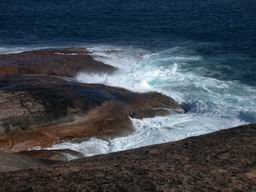 Coast line in West Australia in Esperance NP. Near this area we met VK6ABS Bob and had a great visit and also VK6HD mike.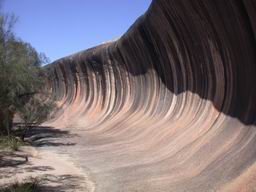 Wave Rock which is in the interior of Western Australia. This would be considered out back but there is enough rain there is some wheat.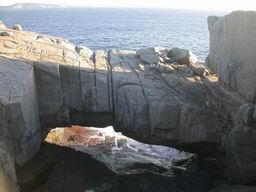 Natural Bridge near Albany and also there is an old Whaling Station here which has been preserved to show that industry . There are some spectacular coastal scenes here with blow holes.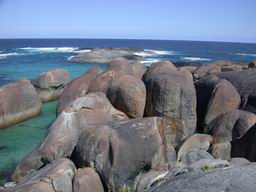 Elephant Rocks Western Australia.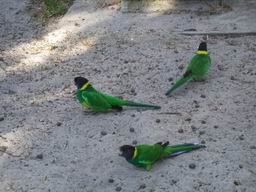 >Parrots with many species common in Australia. They are found all over the country.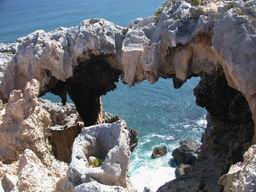 Arch in the Southwest part of Australia in Western Australia.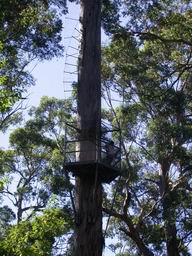 Tall Gum trees that were used as fire watch towers. I climbed this one the Dave Evans Bi-centennial tree. It is 245 feet high.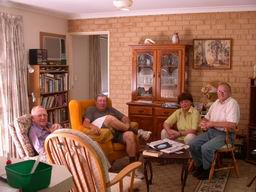 Sean VK6BDB where we stayed near Perth and also on the picture is Jerry VK6GW and his wife. Sean showed us all the sites of Perth which is a fine town. We seen Kings Hill and many other sights in the Perth area.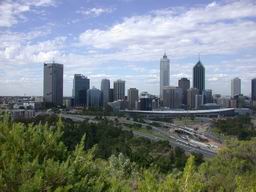 Perth, Western Australia.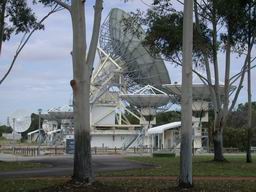 Perth International Telecommunications Station. This was only possible because of Sean connections.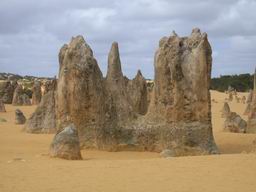 Pinnacles National Park north of Perth on the west coast. There is an area of blow holes along this coast and many warning about giant or killer waves. Actually these waves which seem to happen out of nowhere are not that uncommon and have resulted in a number of deaths.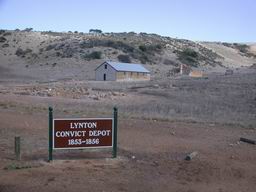 Convict Depot, Australia was first used as a convict colony.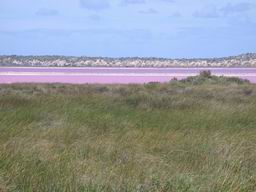 There are a number of pink and purple lakes in Western Australia.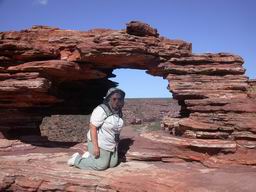 This is the Kalbarri area with canyons cut out in the dessert. It is hot and dry here. There are also some rugged coastal scenery in this area. The roads to the parks have a very washboard surface and are very hard on vehicles.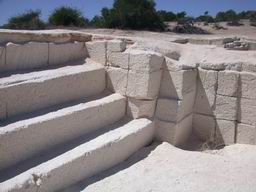 Millions of little shells which were used as building materials in the early days. There is also salt mining in this area.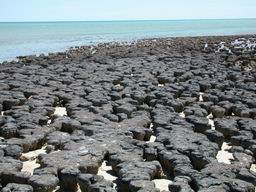 Stromatolites a simple bacteria growth. They occur here because of the high salt content in the water.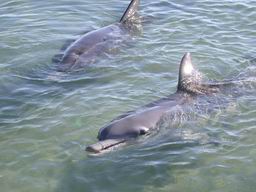 Monkey Mia where dolphins have made friends with people. The feeding is strictly controlled so they do not become dependent on it.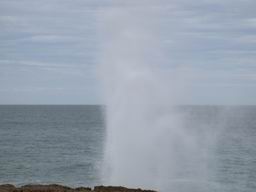 Blow hole along the northwest coast. We are having to watch the hurricanes as they are making landfall to the north. It is supposed to be past the season but it is lasting longer than normal and things are very wet up north.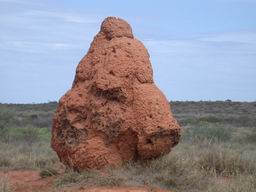 There are 100's of thousands of these termite mounds. Some are called Magnetic termite mounds because they line up with the directions to make it a better enviroment for them.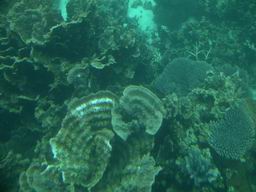 Ningaloo Reef is one of the better ones in the world. Not nearly as famous as the Great Barrier reef but actually about as spectacular and it is close to shore and a lot less costly.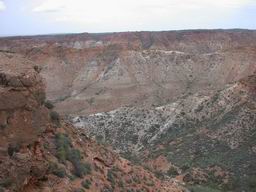 Near Exmouth, not very well know but very spectacular. We are really having to listen to the Hurricane Reports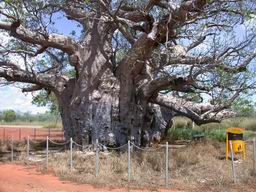 Baobab tree, they are only found in Australia and Africa.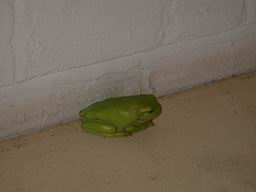 We seen many of these green frogs as we headed east along the north coast. It was hot and humid and plenty of black flies.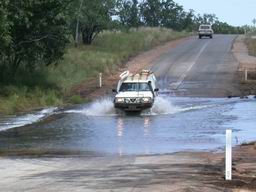 We made at least 25 water crossing like this. We did get stranded because of water a few times and had to wait for roads to reopen and or be fixed. These can be dangerous and flash flooding happens so one needs to be paying attention. This is true for the outback and also a lot of the coastal areas.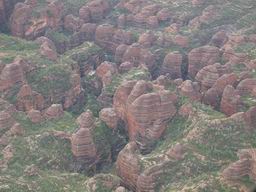 Bungle Bungles NP, it was so wet all we could do was take an airplane scenic tour of the area.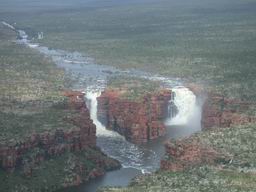 This is the famous Gibb River Road area rich in history and is closed during the wet season. Usually this is the end of the wet season but this year it is going to be another month and a half before you can go to these areas via roads so we had to take scenic charter flights. There were some great falls with all the rain. This is Washington Falls,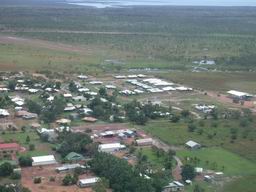 Kalumburu a mission town for the Aborigines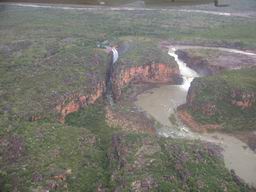 Mitchell Falls on the Mitchell Plateau in the Kimberlies in the North Territories.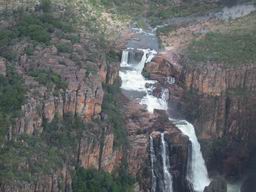 We seen Litchfield NP with some nice waterfalls and eventually got stranded in Darwin for several days in huge rains with roads under water. Eventually we got south and then come back from the southwest to Kakadu NP. It was pretty much under water so we took a scenic flight. This is one of the falls we seen.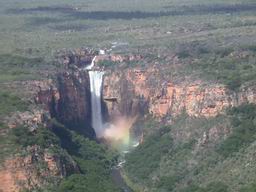 Another falls in Kakadu NP. It is definitely difficult to get good picture out of these planes.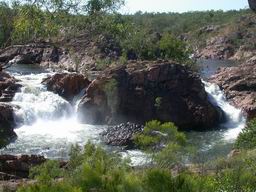 Edith Falls north of Katherine. With the flooding the main canyons by Katherine will be closed for several weeks.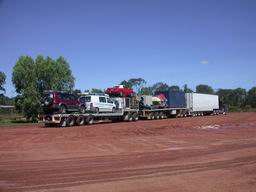 A road train which are very common in Australia.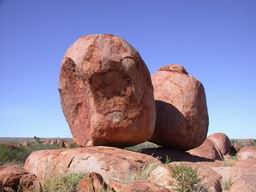 Marble rocks on the way to Ayers rock. This is the outback!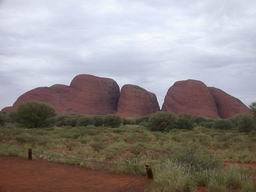 Olga Rocks north of Ayers Rock.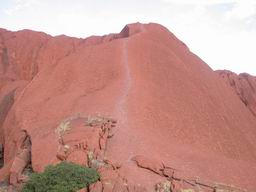 Ayers Rock. We did not get a chance to climb because of lightening danger and wind. Basically that don't want people climbing so things have to be perfect before they allow it.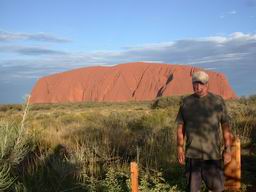 Ayers Rock.
Note the color change which Ayers Rock is famous for.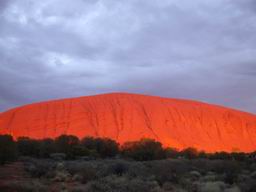 Ayers Rock, more color change.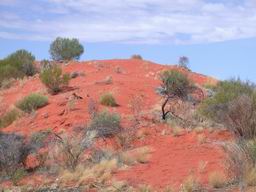 Red soil of the outback!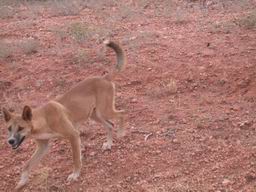 Dingo a wild dog which is a cross between a dog and a wolf. They can not bark but can howl.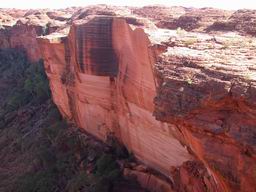 Kings Canyon called the Grand Canyon of Australia. We hike a lot in this area. It is spectacular but hot and lots of black flies.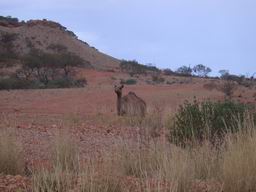 There are many wild camels in Australia. They were imported because of the rugged climate and many got loose and are wild or are ranged like cattle and sometimes rounded up. There are also Emu in many places.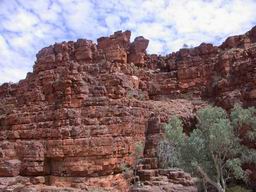 McDonnel Range goes north and south of Alice Springs and this is a view of that.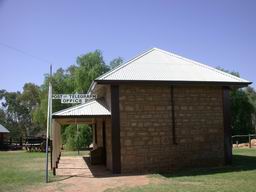 The famous Alice Springs telegraph station. North of here a few hundred miles is the Land of Never Never as describe in the book of that name.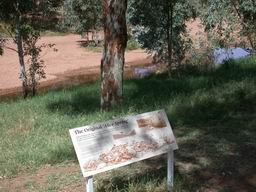 There really is an Alice Springs by the telegraph station. It is quite something for this dry area. We had car trouble here with the power steering. Roger at R&L Auto Repairs is a great guy, honest and good so if you need vehicle work in Alice Springs see R & L Auto Repairs. I also had some great help from the Ford garage guys back in Salem SD via e-mail trouble shooting the problem. Thanks guys!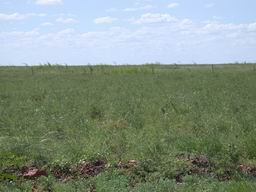 Tall Grass country for the big wet that happens every year. Eventually it gets very hot and dry and then the cycle starts over. It is 50 miles or more between stations(ranchs) and the closest town may be 150 miles away. Definitely the outback.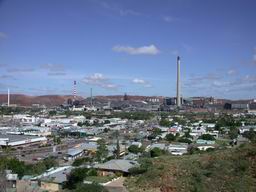 Mining town Mt. ISA in Queensland. It is an isolated town but the mines have seen that everything needed is in town.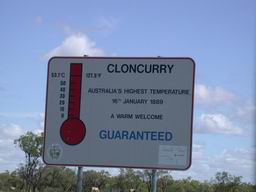 Has the record high temperature for Australia. The climate is brutal in this area with the heat and humidiy and some times it turns extremely dry.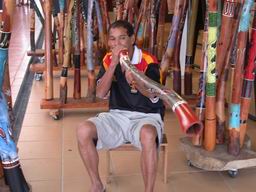 Karuna which is in the mountains by Cairns. A native aborigine playing the didgeridoo. It is from a Eucalyptus tree and the termites eat out the soft center and then they finish and paint the outside. You make sound with your lips, moving your lips to get a motor boat sound and then you use your vocal cords for a variation in the sound. The biggest trick is to keep air moving though it all the time. The tribes have special sounds as there is no music only personal style and custom. They do not play these for the public as it is sacred to them. If you put your ear to the hollow didgeridoo there is a constant sound all the time from the air moving through it. I got a CD with some of this fellows type music.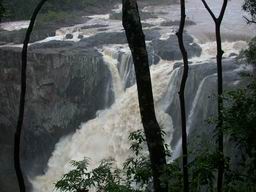 Barron Falls on the way to Karuna on the cable car which runs 7 km over the mountains.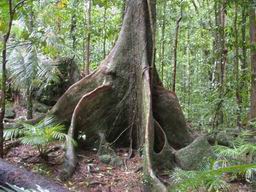 Rain forest in the Cape York area.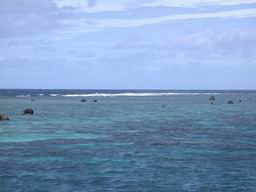 Great Barrier Reef out of Port Douglas. The reef is out in the ocean about 35 miles so it was fairly rough so snorkeling was a challenge but the reef is beautiful.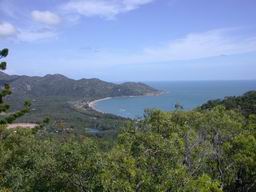 A scene from Magnetic Island where we met Danial from the Netherlands for a great visit. We were together on a wildlife safari in Africa.
Great Barrier Reef in the Whitsundays area. We went again since the ocean was so rough the first time. It was much easier this time and we seen a lot of reef and had a good underwater sub ride as well. South of here we visited Norm VK4CNP and his wife Jean who we had many contacts with as we traveled around Australia.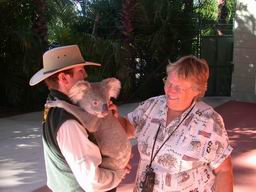 The famous Steve Irwings Australian Zoo. Steve died from a sting Ray accident shortly after we got home. His wife Terri and daughter are carrying on. This is a Kwala Bear. This animals have and extra climbing digit for grip and can sleep in a tree. They east Eucalyptus leaves which have a drugging effect so they sleep it off during the day. There body is able to process the chemicals with no problem.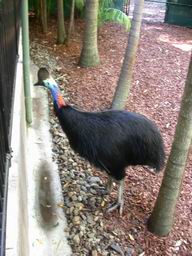 Cassawarie, not many left in the wild. Other birds we seen and/or heard a lot are the Laughing Kookaburra and Black swan.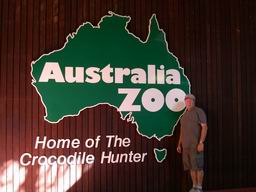 Australian Zoo being carried by Steve Irwins wife Terri and daughter Bindi.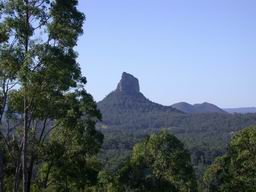 Glass Mountain near Brisbane.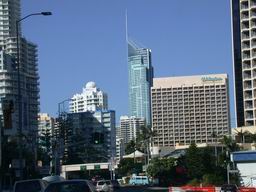 Gold Coast.