2007 February through April trip to South America. This trip was to Chile and Argentina. This was a challanging trip as I broke my ankle and leg one month into the trip hiking in Torres Del Paines and had to have surgery. We spent about one month in Libertador San Martin, Entre Rios, Argentina visiting our friend Mario LU1JCJ and his family. We had an enjoyable time there. We were able to improve our Spanish and I was able to start walking before we took the bus to Santiago, Chile and flew home. Fortunately we traveled the Austral Sur, seen the lakes region, Patagonia and Ushuaia and some of Torres Del Paines National Park before my accident. We met many wonderful people who were so kind to us.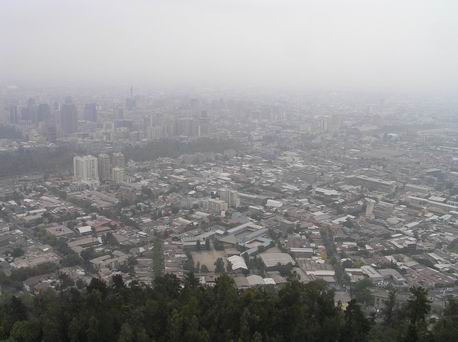 View of Santiago, Chile form San Cristobal hill.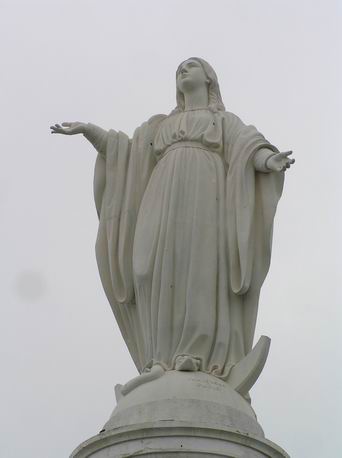 Virgin Mary statue on the San Cristobal hill in Santiago, Chile.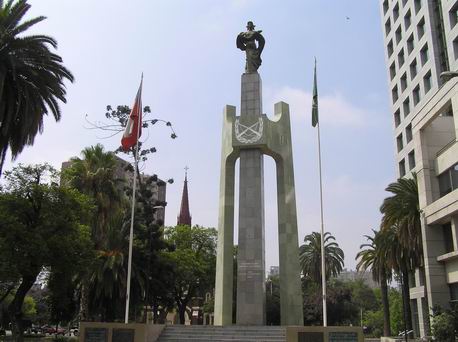 Plaza de Armas in Santiago Chile.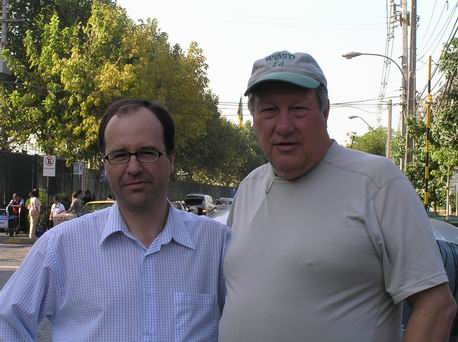 Felipe CE3SAD our gracious host in Santiago. He picked us up at the airport, helped us with a map and suggestions on places to see in town. We enjoyed our stay with him very much. He also took us to the bus station to head south.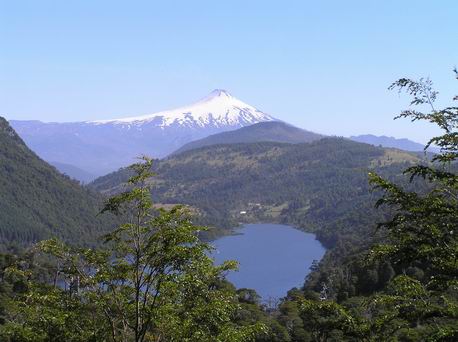 Pucon Volcano which is active.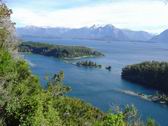 The lakes region has lots of scenery like this. This is in the Bariloche area. This area is in Chile and just into Argentina. The Andes Mountains are mainly in Chile.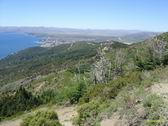 A view of Bariloche, Argentina it is a very popular place for tourists around the world and people from Argentina and Chile. It has many good chocolate stores and good steak houses.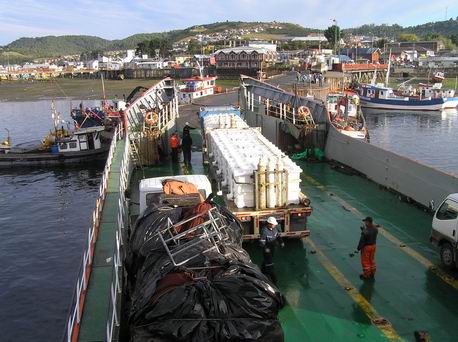 Ferry from Quellon, Chiloe Island.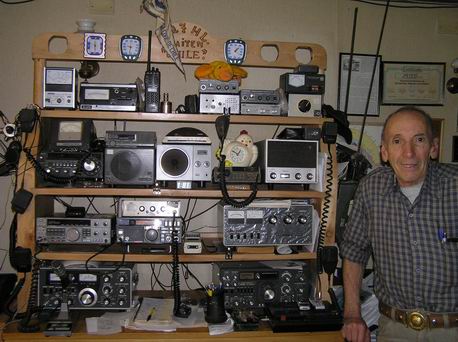 Jose XQ7HL in Chaiten, Chile on the Austral Sur, we had a great visit mostly in Spanish!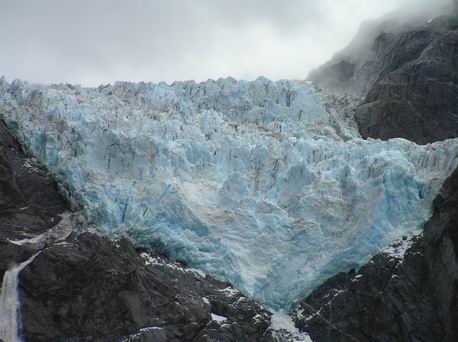 Glacier 22 km south of Puerto Puyuhuapi called Ventisqueo Colgante.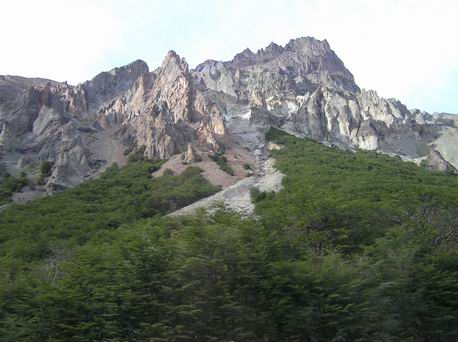 Mountains south of Coyhaique. Coyhaique was our favorite town in Chile. It has a beautiful setting in the mountains but yet is not over run by tourists or hectic. It is probably the trout fishing capital of the world.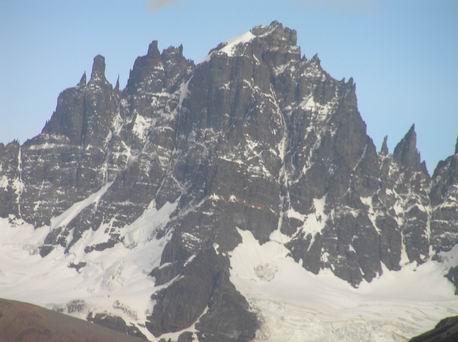 Rugged mountains of the Andes south of Coyhaique. Sorry the picture is a little fuzzy but taking pictues out of a bouncing mini-bus full of people is not easy. This was in February so it is would be like August in the northern hemisphere.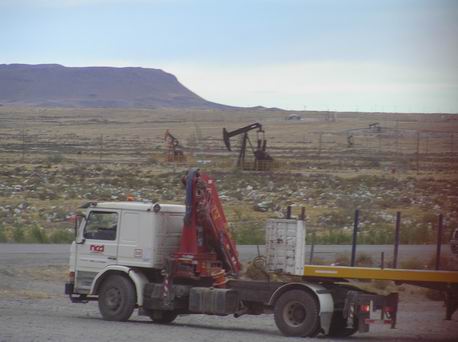 This is a little ways east into Argentina from Los Antiguos. The weather systems loose their moisture as they cross the Andes so as you can see it is very dry and is called the Pampas. However it is rich in oil and has a huge area of oil wells that go all the way east to the Atlantic coast. Again the picture is a bit fuzzy but I wanted you to see this part of Argentina.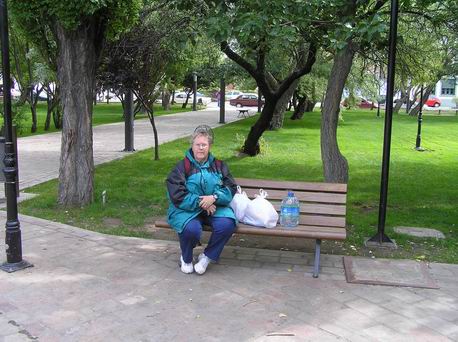 Town Plaza in Rio Gallegos, Argentina, this is the south part of Argentina but from here you can go to the island of Tierra Del Fuego which gets you to the tip of South America. We often buy food in the grocery store and eat it at a Plaza where we can watch the people or sometimes we eat where we are staying. Even though it is summer we are far enough south there are cool days.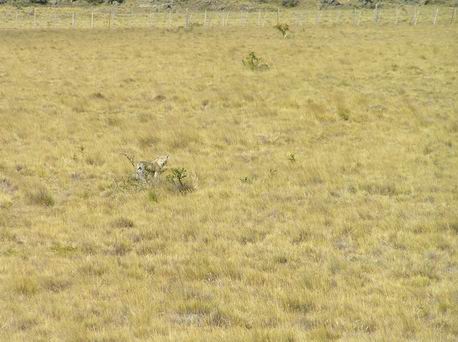 Grey Fox on the way to Tierra Del Fuego on the border between Chile and Argentina.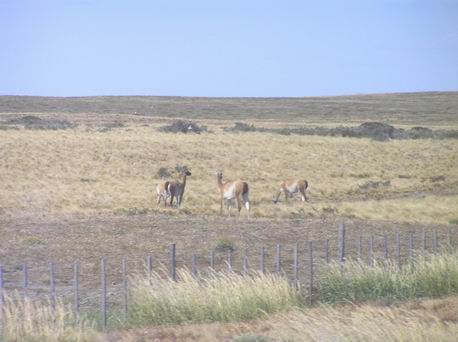 Llama's on the way to Tierra Del Fuego, again a bit fuzzy due to taking it from the bus.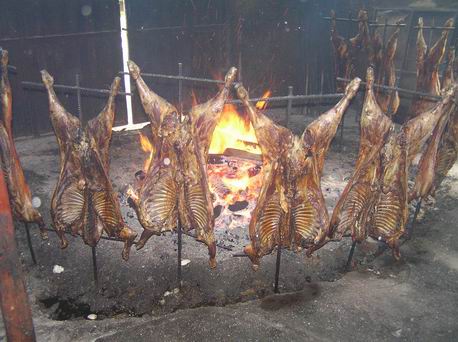 Roasting lamb at Ushuaia at the tip of South America.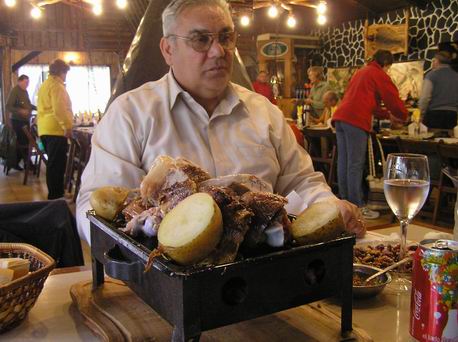 We had an all you could eat lamb meal. This is our wonderful host and friend Pupi LU8XP. He really showed us a lot and explained a lot of things to us. We used some English and some Spanish. He and his wife Luisa are wonderful people!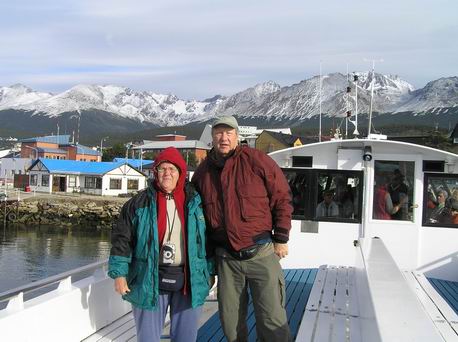 A view of Ushuaia in the background as we begin our tour of Beagle Channel the passage way at the tip of South America. We spend about 5 days here and it is a wonderful place and the starting point for Antartica Trips.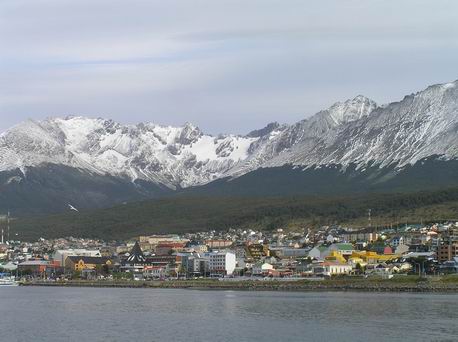 Another view of Ushuaia.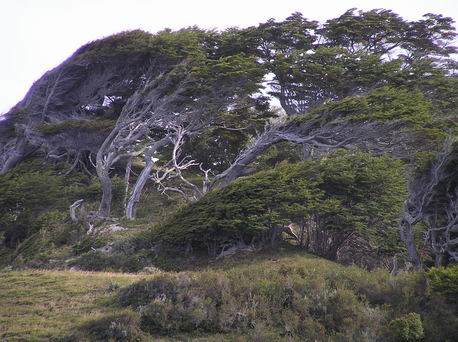 The trees show how they really get vicious storms with high winds here at the tip of South America. Going around Cape Horn is even worse.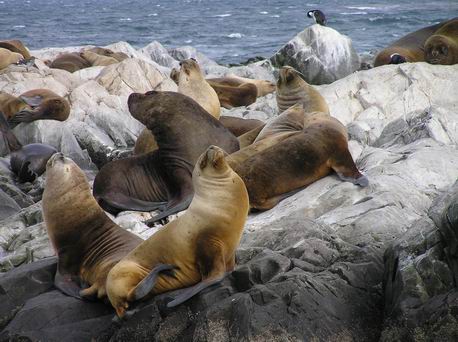 Sea Lions in Beagle Channel.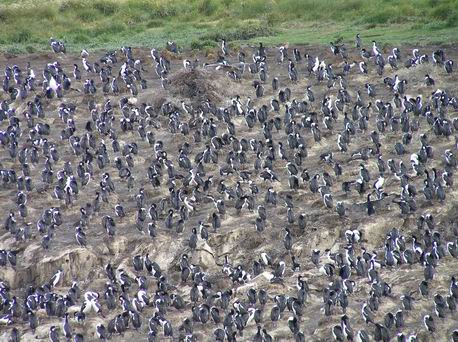 Cormorants in Beagle Channel.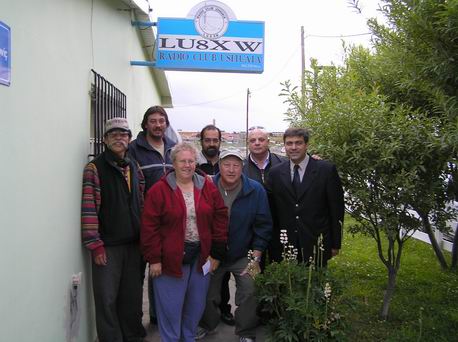 Some members of the LU8XW Ushuaia Amateur Radio Club. They were wonderful hosts and we got to operate from the club and talk to our friends in South Dakota and to Mario LU1JCJ.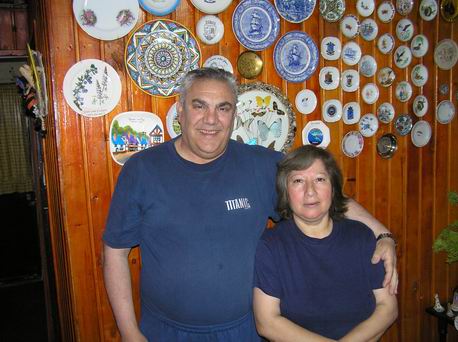 Pupi and Luisa our hosts in Ushuaia. They have to get the award for outstanding hosts of the trip, just fantastic!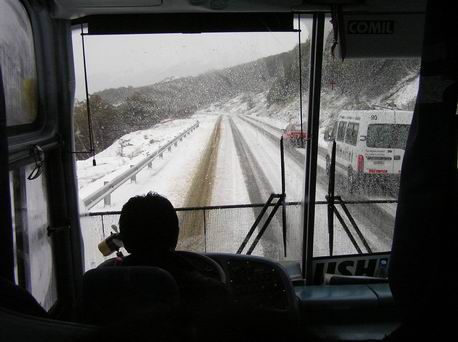 There was a snow storm as we crossed Garibaldi Pass going north as were were leaving Ushuaia.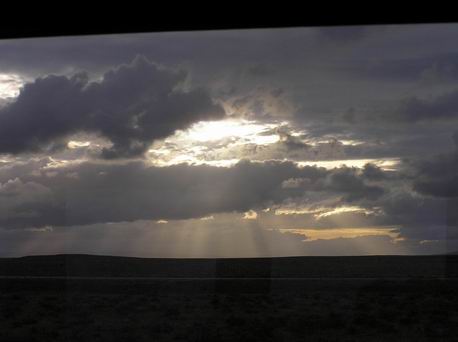 Sunset as we were leaving Tierra Del Fuego.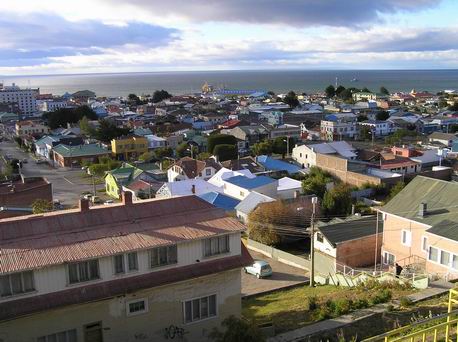 View of Punta Arenas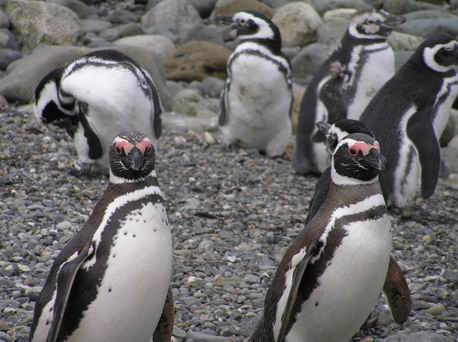 Magallanes or "donkey" Penguins on Magallanes Island in the Straits of Magallanes. The red inicates they are quite old while the younger ones do not have this red on there head.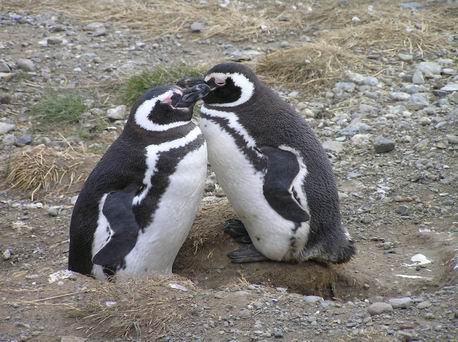 A couple male and female.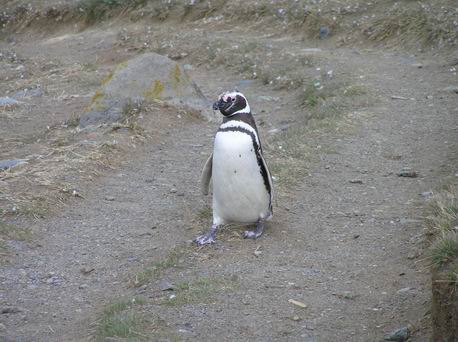 They don't walk very gracefully but they sure can swim and even sleep in the ocean.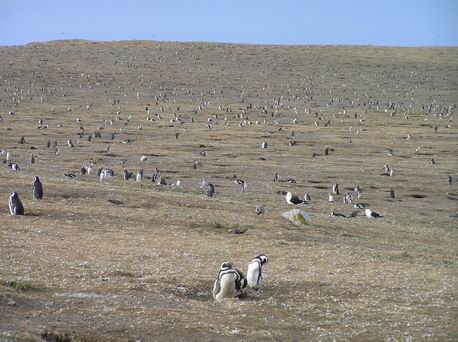 The number of Penguins were amazing and many had already left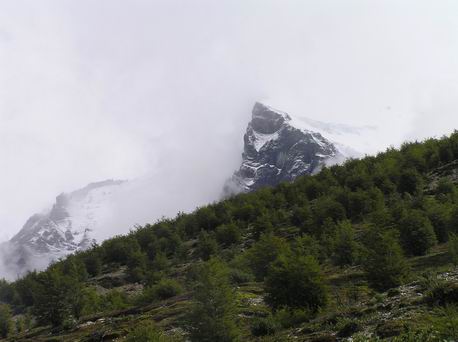 View of mountains at Torres Del Paines National Park often considered the ICON of Patagonia.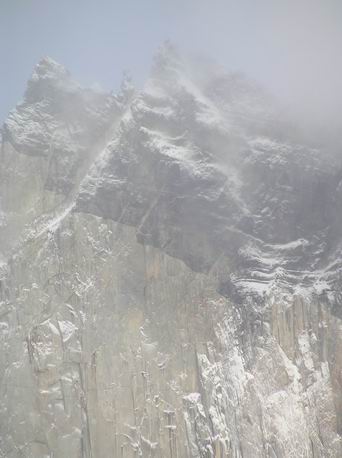 Another view in Torres Del Paines.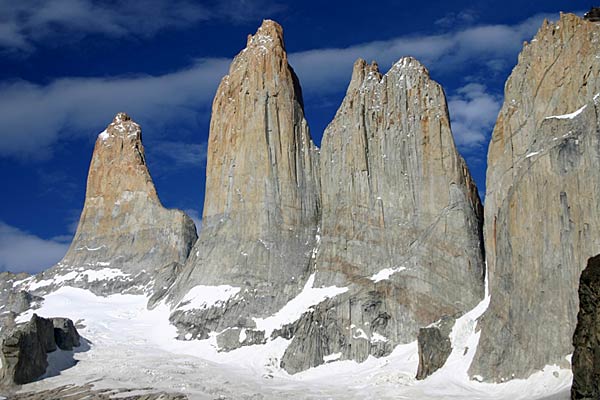 This is a picture I got from a fellow traveler who was fortunate enough to be there on a very, very rare clear day. We hope to go back and try again.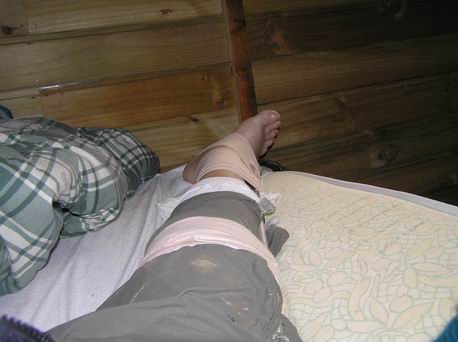 Our hiking in Torres Del Paines came to an instant halt when I broke my ankle and leg. I just can not thank the park rangers and fellow hikers who carried me out for 3 km on a board. It was under extremely difficult conditions. Here I am with the broken bones spending the night in the refugio.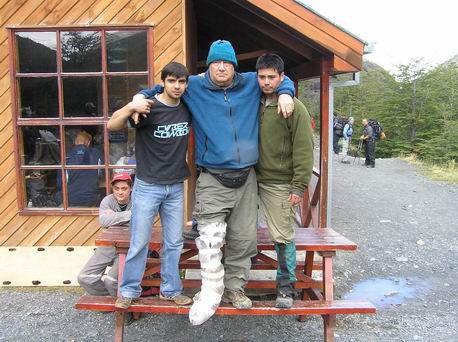 I have had the walking pole splint replaced by an air splint. THis is the manager of the refugio on the left and my park ranger friend on the right. I am hopping up on the picnic table so I can get on a horse for the last 3 km out to the ambulance.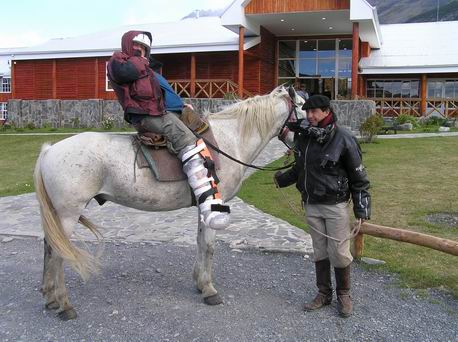 This is the horse I rode with the broken bones for 3 km over a very rough, narrow, rocky trail with some stream crossings as well.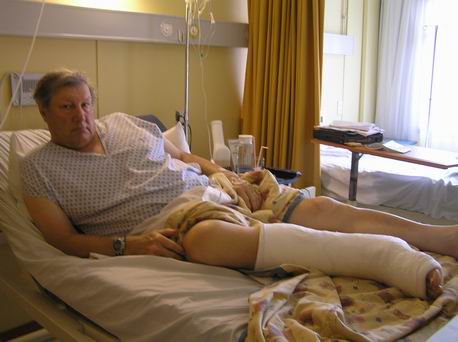 Thirty hours later and two hospitals later I went into surgery for a plate and seven screws and a pin. Here I am the next morning in the Magallanes Clinica in Punta Arenas.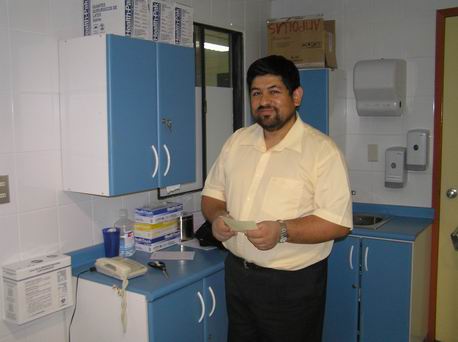 Dr. Alvarez my doctor.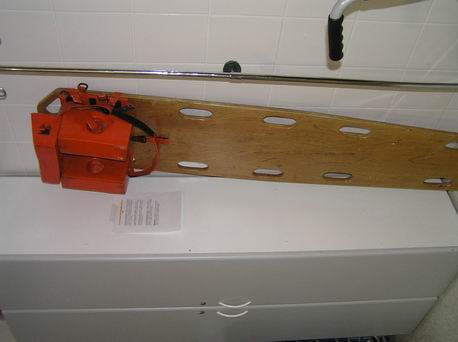 This is like the board I was carried out on but mine had no head piece just a board but it did have straps to help hold me on the board. The trip out on the board was in the rain, a couple of people were translating between English and Spanish to keep every one coordinated. There were streams to cross with people having to carry me through the water and two 3 meter rock cliffs they had to let me down on ropes. A para medic for England did the wonderful job with the walking pole for a splint and many hikers contributed wraps and tape, etc. to make this all work. I will always be in deep gratitude to all of you and as I write this several months later tears come to my eyes recognizing your kindness and helpfulness. It took about 5 hours to carry me the 3 km. Also a big thank you to the park rangers who kept my wife informed and helped line the board up and made other arrangement.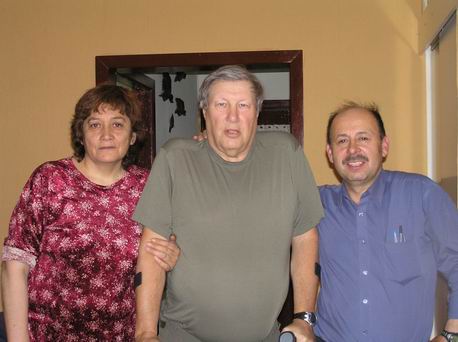 After a week in the hospital to be sure there were not blood clot problems my doctor said I had to stay at a Hotel for another week. We went to the Ayelen Hostel. Here are Estella and Juan the owners who treated us as family. Later they came and seen us in Santiago as they happened to be there when we were getting ready to fly home. We will never forget them. Juan spoke a lot of English and helped me with me Spanish. We also met Estella's brother, their daughter Alejandria and a family friend Victor who all were very kind and helpful.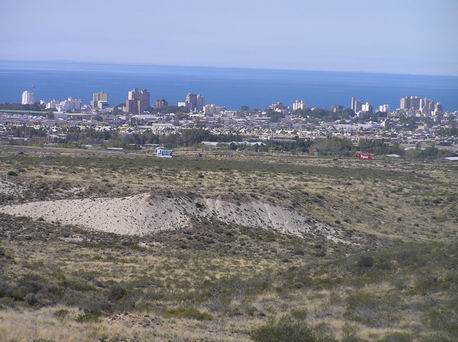 We are now traveling from Punta Arenas to Libertador San Martin, Entre Rios Agrentina to our friend Mario, LU1JCJ and his family. It is about a 50 hour bus ride. Here we are at the northern part of the Pampas in the area of the Valdez Peninsula. This is the city of Puerto Madryn.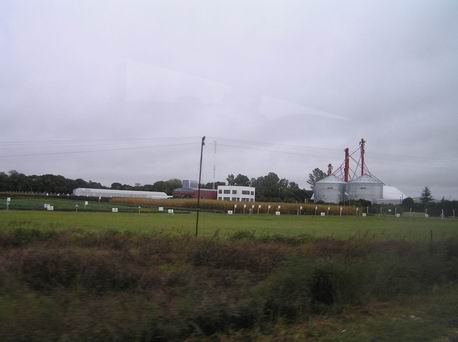 We are in Santa Fe Province in Argentina and farming country.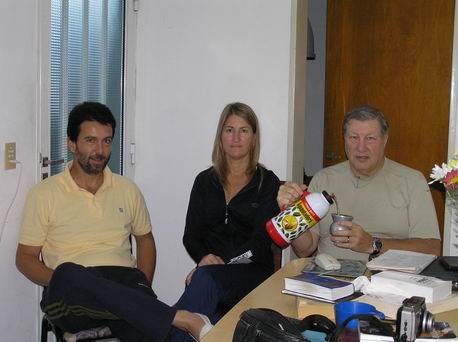 Our hosts Mario LUlJCJ and Anna at Libertador San Martin where we spent a month in a bungalow near them while my leg healed so I could walk on it.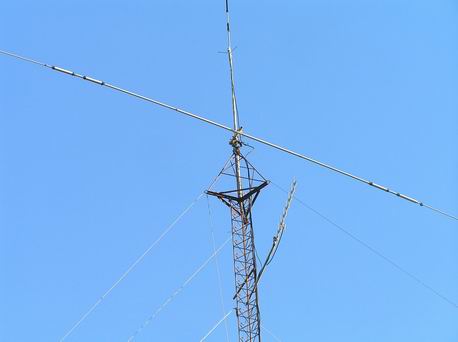 Mario LU1JCJ's antenna that made it possible to talk to some of my friends in the USA.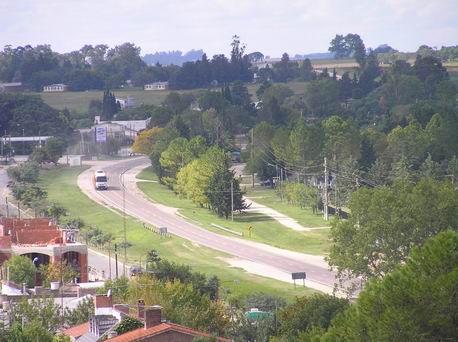 View from Mario's tower.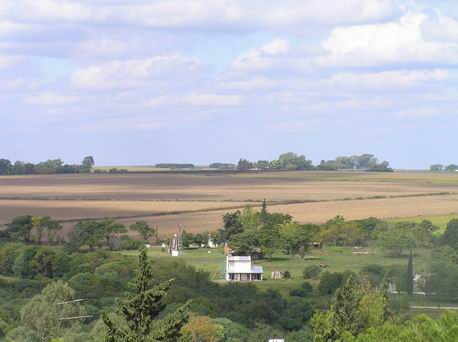 Another view from Mario's tower showing the farming land.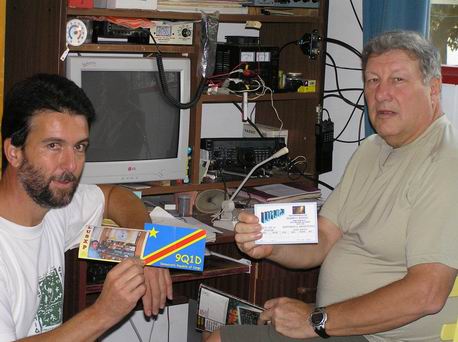 Mario's ham station where he talks to the world. He can speak excellent English.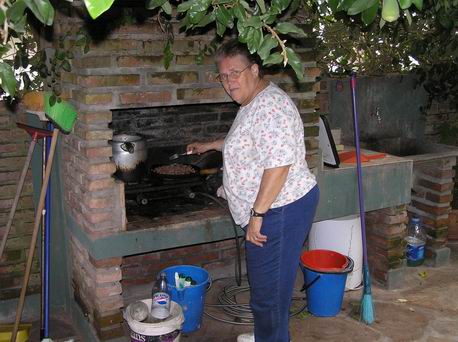 Edith cooking outdoors at our bungalow next door to Mario's.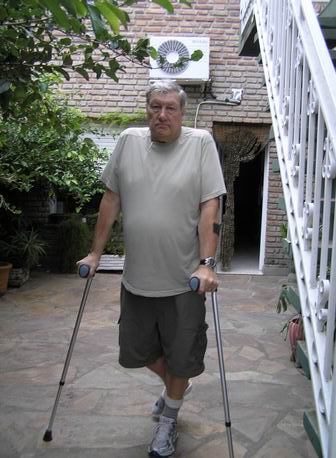 Getting good on crutches in South America.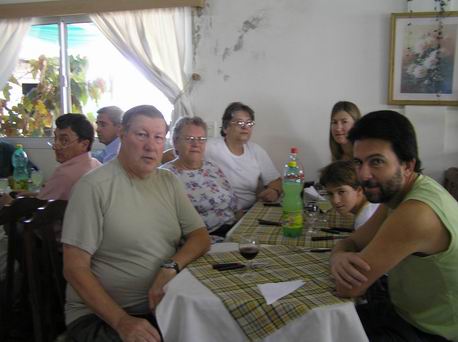 Sunday dinner with the Riffel's. On the left are myself, Edith, and Mario's sister Melba. On the right are Mario, Alexander and Anna. Missing is their daughter Ivana.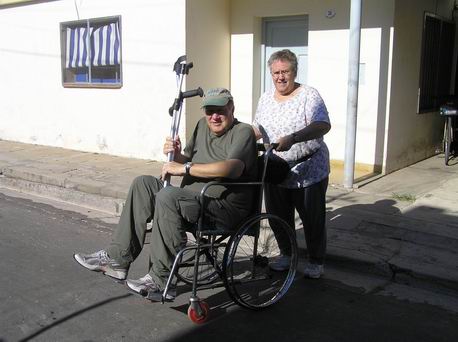 The wheel chair that Melba and Mario had for me was so valuable. Among many things it permitted us to go to the Cyber Cafe. This is in front of Pepe's home who did not speak English but his Spanish was excellent and we had some good visits. He is a retired nurse and he gave my leg some great massages.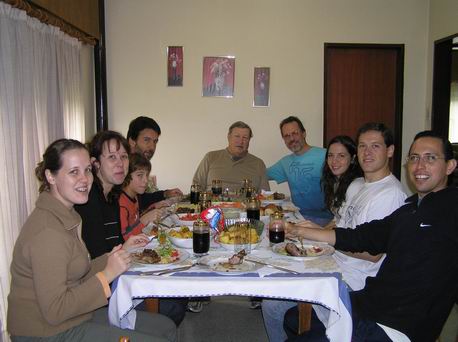 Going away dinner at Ruben's who is Mario's boss. The others are his family with husbands and wives. It was a very special occasion and the Argentina beef was excellent. The conversation was mostly in Spanish but with some help from Mario we did a lot of visiting. They were very kind and spoke slowly.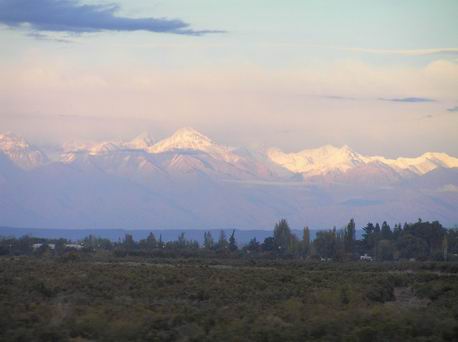 We are on the way to Santiago to fly home. This is approching the Andes Mountains near Mendoza.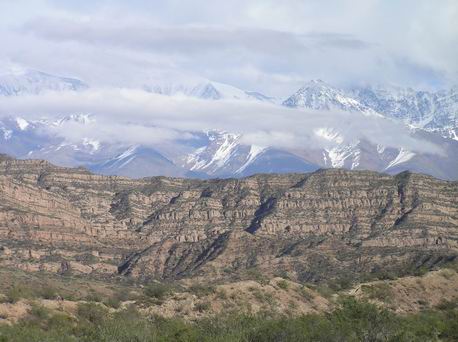 Climbing to cross the Andes into Chile, west of Mendoza. The scenery was fabulous!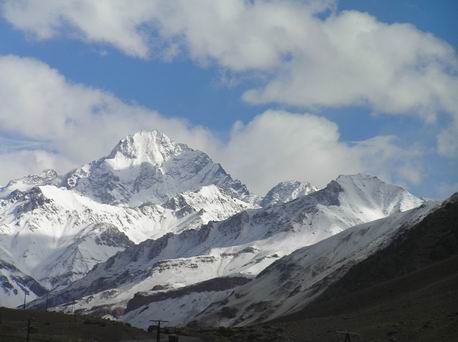 The Andes Mountains. Mt. Aconcagua called the Roof of the Americas is the highest mountain in North and South America.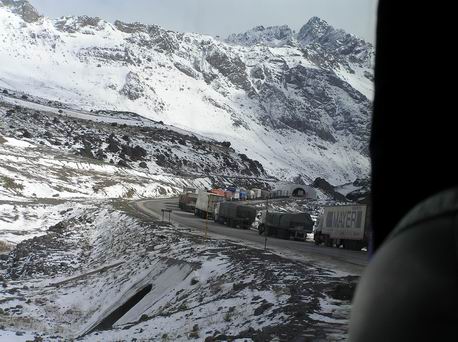 At the pass between Argentina and Chile with trucks waiting for customs. We did not have to wait like the trucks but it still was a couple of hours at the border.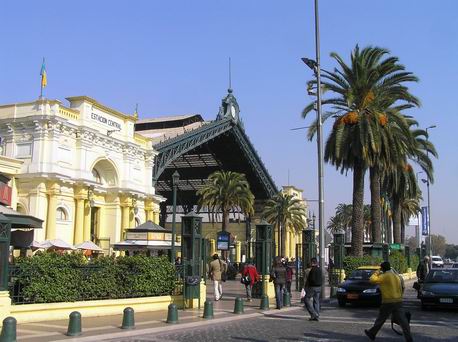 Train station in Santiago designed by Eiffel who built the Eiffel Tower.