2005 WINTER TRIP MEXICO BAJA,MEXICO PACIFIC COAST and UTAH
2005 WINTER Trip to Joshua Tree National Park, Baja of Mexico and Pacific Coast area of Mexico and then Eastern Arizona and Utah and then back home to South Dakota
If you read the dailyTRAVELOGUE you will get a lot more details about the trip. The travelogues are unedited as I want to enjoy my retirement and really don't want to invest the time to edit them so you get them as is personal notes and all!
A link to the first E-MAILthat we sent out while traveling. There is of course some duplication but a lot of it is not.
A link to the second E-MAILthat we sent out while traveling.
A link to the third E-MAILthat we sent out while traveling.
A link to the fourth E-MAILthat we sent out while traveling.
A link to the fifth E-MAILthat we sent out while traveling.
A link to the sixth E-MAILthat we sent out while traveling.
A link to the seventh E-MAILthat we sent out while traveling.
As you go through the pictures and captions and refer to the travelogue and E-mails you can find out a lot about what we saw and did on the trip. This should not be to hard to do since the travelogue is in order by date and the pictures are in order as well. You will of course find days where there are no pictures posted but there is always a travelogue!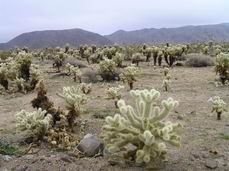 This iS Cholla Cactus in Joshua NP.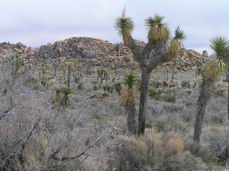 Joshua trees in Joshua Tree NP in California.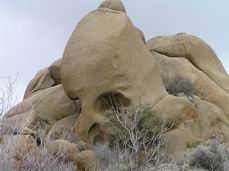 This is Skull Rock in Joshua NP.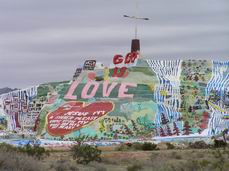 This is Salvation Mountain at the entrance to Slab City near the Salton Sea in California which is famous for a place where people park for free for the winter.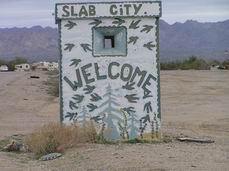 This is the entrance to Slab City. If you want to know more about Slab City just put Slab City in Goggle and you can find out all about it. It is near Nisland, Ca and is south of Joshua NP. North of here there are some decent places to camp along the Salton Sea for a reasonable cost and quite a few people winter at some of these parks.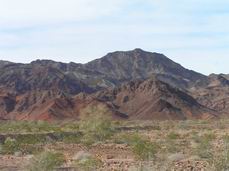 We entered Mexico at Mexicali, Baja California. All the details are in the daily travelogue diary. This is south of Mexicali after you get into the desert away from the Imperial Valley. We seen some sand dunes here also.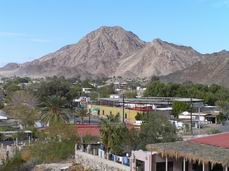 A view of San Felipe on the Sea of Cortez, not a bad place to winter but can be windy and chilly sometimes. One can still get Direct TV and Dishnetwork with a regular dish. For south of the border Direct TV has more signal strength.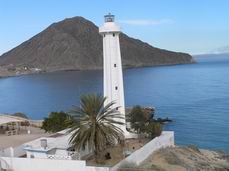 The light house in San Felipe on the Sea of Cortez. There are a number of activities and things to do here. The snowbirds here are pretty well organized and will help you find things and tell you about things going on. Lots of Canadians here but more Americans than most places in Mexico. The farther south you go the more Canadians and less USA. You don't need a vehicle permit to go here but if you are going to stay in San Felipe down and back over 7 days you need your VISA (FMT Tourist permit.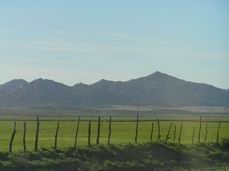 From San Felipe over to Ensenada you drive through a huge valley that has lots of agriculture before entering the coastal mountains by Ensenada which is build on the Pacific Sea shore and is quite hilly and has mountains around it.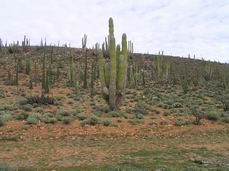 As you go south of Encenada there are mountains and at times you are along the sea and quite a bit of agriculture and quite a few towns. Eventually you start across the Baja to the center and then come back to the Pacific side. Be sure and fuel up whenever you get a chance as there are some places where it is over 200 miles between PEMEX stations. In this case be sure and fuel up in El Rosario. As you go across the high desert east of here there is fantastic scenery. The most beautiful desert we have ever seen!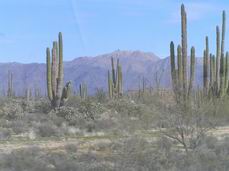 More desert scenes and in this desert area be sure and pull off and look around in the rocks and desert plants as there is nothing quite like it anyplace else. The closest we have seen to the rock formations is Joshua NP. It is shown as a Mexico NP on many maps and is called Parque Del Desierto Centro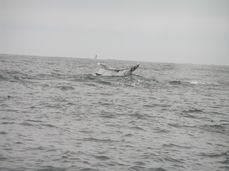 This a a Gray Whale in the bay at Negro Guerrero. We were to early to pet the whales as they are the young ones and they were not big enough yet to be curious and come up to the boat. By mid February you can pet them. We later found out if you are early like we were in January you can also go on a whale tour at Cabo San Lucas and pet them there as the young seem to be born earlier there. We stopped at Mario's Restaurant and could dry camp park free as long as we did the tour. I think that will change as they are putting in lots of spots with hook ups but it makes it handy. There are other places if you buy a meal you can dry camp free. Just north of here you cross the border into Baha California Sur. You will need a vehicle permit as well as FMT so I suggest getting them at the border and be done with it. They will take away any fruit and vegetables and possibly meat even if frozen at the border so be aware of that and be out of things. You can buy what you need in Negro Guerrero. We stayed out along the highway but there are places in town as well. It is a safe town but things are sometimes stolen so keep your stuff locked up.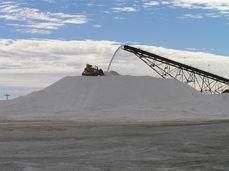 This is one of the largest salt reclaimation from the sea in the world. They flood large areas about 3 feet deep with seawater and over about 3 years it evaporates. They use some chemicals to speed the evaporation. They then load it with machinery and put it in these piles to barge out to ships. Some is taken to town and packaged in a large factory.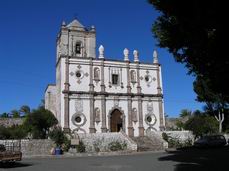 This a a neat oasis town where you can buy dates and visit an old town plaze, zocalo and church. It is at San Ignacio and you can make it into town with your rig and around the square if it is not crowded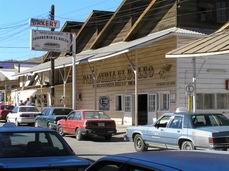 This is the world famous french bakery, panaderia in Santa Rosalia. The highway coming in from the north is steep, with curves and large drop offs so stay shifted way down. We had heard a lot about it and it was no nearly as bad as we expected. There is a ferry that goes from here to Guymas across the Sea of Cortez. It is about the same price as the one at La Paz but if you want to do the Baja to Cobo it means you have to come all the way back to here so La Paz is a lot better deal. Check the daily diary on directions to the bakery.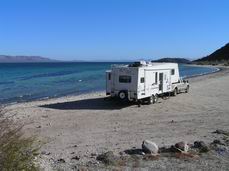 Here we parked on the beach at Santispec for $6.00. It is right along the road south of Muleje, you can not miss all the RV's. Many Canadian make this or other areas north and south of here their winter home. Read our diary on how we got this beach all to ourselves and more exact directions on the turn off.Muleje is another oasis town.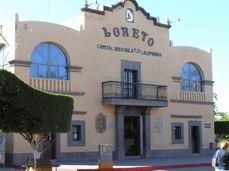 Loreto is the oldest town in the Baja and has lots of history. It has a nice historic area. We found the RV park we planned on going to full of caravans so had to ask around and found one south of town on the ocean.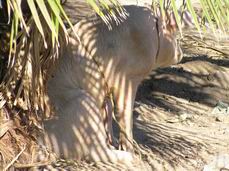 Here in Loreto we finally got a picture of a pig tied up. Quite a common sight in Mexico but it seems never where I could get a picture before. They feed and raise it this way and eventually butcher it for meat.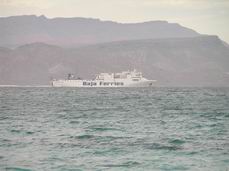 A picture of the Baja Ferry we eventually rode on from La Paz to Topolobampo on the mainland of Mexico near Los Mochis. It was taken from our free parking spot on Playa Tocolate. For information on the ferries and camping on Tocolate see the daily travelogue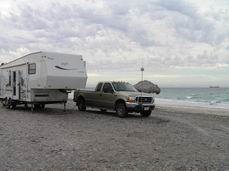 Parked on the free beach. Lots of Canadians and a few Americans. We made many good friends here.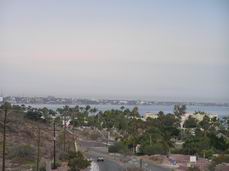 A picture of La Paz. It is a nice town and has a very nice Melacon (ocean front road) A nice Mexican town without a lot of tourists. We could not find the downtown ferry office so I was asking a young gal on the street for directions and she spoke a little English and me some Spanish. It was hard to give directions because of one way streets so so said in English follow me and she and her son got in the car and lead us there about 8 blocks. Her son had a great time waving out of his window and pointing out our next turn. She lead us to the office, pointed at if and off they went as we waved at them.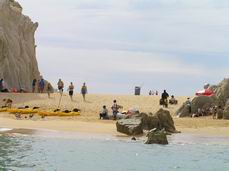 Lovers Beach at Cabo San Lucas on the way to the rock arch. Check the diary for lots and lots of additional information. We left the 5th wheel at Playa Tocolate and made the a day trip on the loop road to Cabo.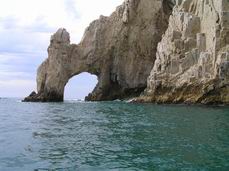 The famous rock arch of Cabo. You have to take a boat to see it. Again all the details are in the dairy.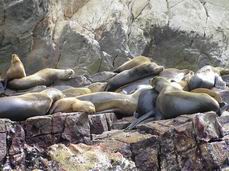 Seals on the trip to the arch.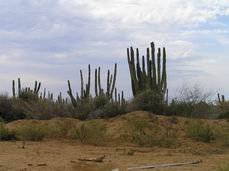 Desert north of Cabo San Lucas. Be sure and visit San Todas and you can park free south of there. It is a good place to buy dates. See the travelogue for more details
There is our 5th wheel on the ferry leaving the ferry terminal northeast of La Paz. A beautiful ferry, more details in the travelogue.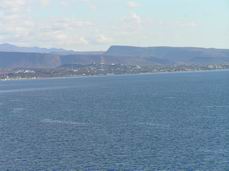 La Paz from the ferry.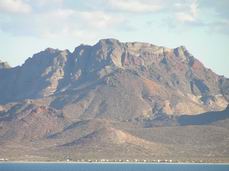 A view from the ferry of Playa Tocolate where we had parked for several days. Note the beautiful, rugged mountain in the background. A beautiful place on the beach to park for free and close to the ferry. Read the travelogue in regards to being safe.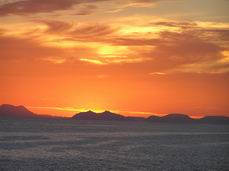 Sunset on the ferry. We also seen a whale come clear up out of the water twice. The best I have ever seen.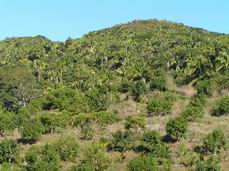 We are now along the Pacific Coast south of San Blas, north of Puerta Vallarta about 60 miles and it is very tropical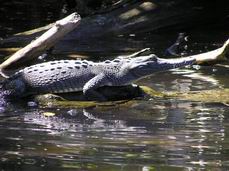 A river tour from San Blas which is a tropical jungle with lots of birds, crocodiles, turtles and an occasional jaguar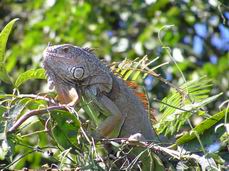 An Iguana in the jungle.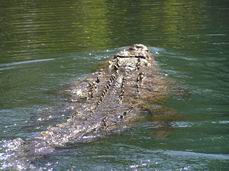 A big crocodile right by the boat.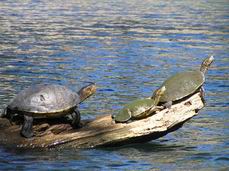 We seen 100's of turtles, some bigger than these.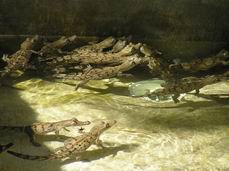 A bunch of little crocodiles.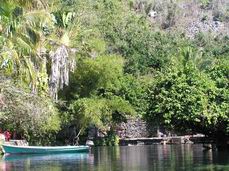 A warm water spring where you could swim. The had a screen across to keep the crocodiles out, well maybe!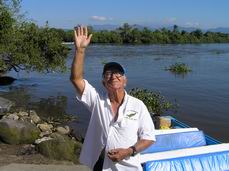 Our guide Sanchez who spoke good English and gave Edith and I a wonderful trip. We gave him a big tip as he really deserved it.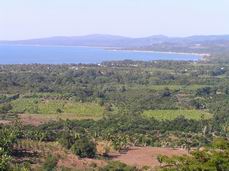 What is looks like at Rincon De Guayabitos where we stayed for about a month. Temperatures are 80's during the day and 60's at night. Lots of Canadians, great place to fish, be one the beach, cheap prices and plenty to do. By March it starts getting hot and humid so most snow birds start moving north in early March. You can make the border is 3 easy days. A lot of people stay at big PEMEX stations going and coming.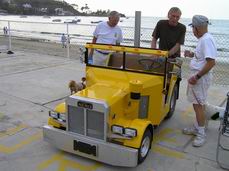 One of the fellows in our campground had this rig. It is a converted quad bike. Our friend Phil is on the right.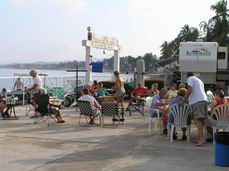 A free pancake breakfast in our RV Park right on the ocean. Note the gate to launch the fishing boats as many in the park like to fish in the ocean.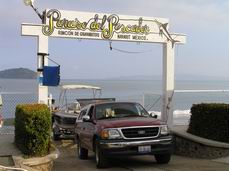 Here is a boat being launched through the gate.
The beach right in front of the RV park.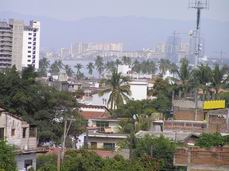 Here is what Pueta Vallarta looks like. In the old section it is coble stone streets and houses up on the hillside above town.
A link to PART IIof our trip